Informação do artigo
Resume
Texto Completo
Bibliografia
Baixar PDF
Estatísticas
Resumen
Fundamento y objetivo
La resistencia a la acción de las hormonas tiroideas (SRHT) es un síndrome causado mayoritariamente por mutaciones en el gen receptor beta de las hormonas tiroideas (THRB). Se estudian cinco familias con fenotipo de SRHT.
Pacientes y método
Se realizó secuenciación de THRB. Se evaluó la respuesta a triyodotironina (T3) y efecto dominante negativo de los mutantes in vitro y se estudiaron los mecanismos de resistencia en sujetos sin mutación THRB cuantificando en cultivos de fibroblastos cambios de expresión en los genes regulator of calcineurin 2 (ZAKI4) y Kruppel-like factor 9 (BTEB).
Resultados
Tres casos presentaron mutaciones en THRB: R243Q, R320C, R429Q, dando lugar a receptores TRβ con menor respuesta a T3. R243Q y R320C ejercen efecto dominante negativo. Un sujeto sin mutación THRB presentó cambios de expresión en ZAKI4 y BTEB similar a R230C, mientras que el otro mostró niveles de expresión superiores a los controles.
Conclusiones
Mutaciones heterocigotas en THRB causaron tres de los casos de SRHT estudiados. Uno de los casos con SRHT sin mutación se comporta a nivel molecular como los portadores de mutación, mientras que en el otro la resistencia no está mediada por TRβ.
Palabras clave:
Síndrome de resistencia a la acción de las hormonas tiroideas
Receptor beta de las hormonas tiroideas
Mutación
Abstract
Background and objective
Resistance to thyroid hormone (RTH) is a syndrome mostly caused by mutations in thyroid hormone receptor beta gen (THRB). We present five families with RTH phenotype.
Patients and methods
THRB gene sequencing. In vitro studies to evaluate the mutants response to thyroid hormones and their dominant negative effect. Mechanism of resistance in patients with RTH without THRB mutations quantifying expression of regulator of calcineurin 2 (ZAKI4) and Kruppel-like factor 9 (BTEB) genes in patients fibroblast cultures.
Results
THRB mutations were found in three cases: R243Q, R320C, R429Q. Mutants showed a decreased response to T3. R243Q and R320C had a strong dominant negative effect. One subject without THRB mutation showed changes in ZAKI4 and BTEB expression similar to R320C and the other showed expression levels higher than normal controls.
Conclusions
Three cases of RTH were caused by THRB heterozygous mutations but in two cases mutations were not found. THRB mutation carriers and one of the patients without mutations share a similar mechanism of resistance and in the other subject RTH is TRβ independent.
Keywords:
Thyroid hormone resistance syndrome
Thyroid hormone beta receptor
Mutation
Artigo
Opções para acessar aos textos completos da publicação Medicina Clínica
Inscreva-se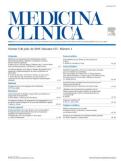 Inscreva-se para:
Medicina Clínica
Contato
Telefone
De segunda a sexta das 9:00 às 18:00 (GMT + 1), excepto em Julho e Agosto será das 9 às 15h
Chamadas de Espanha
932 415 960
Chamada de fora de Espanha
+34 932 415 960
E-mail