Article information
Abstract
Full Text
Bibliography
Download PDF
Statistics
Abstract
The clinical features of the skin and mucosa as well as the dermatological pathologies of patients with Down syndrome are sometimes chronic and difficult to treat. Intense xerosis and perioral dermatitis result in a therapeutic challenge for the specialist. Multidisciplinary and proactive management involving the family and the patient who is able to understand and follow routines are fundamental to avoid common complications such as superinfection. New cosmetic formulations that include active agents capable of protecting and restoring barrier function are helpful in avoiding comorbidities and excessive drug use. The authors perform a review of the main pathologies and specific conditions of the skin as well as the measures for its correct management.
Keywords:
Xerosis
Perioral dermatitis
Trisomy 21
Down syndrome
Cosmetic care
Resumen
Las características clínicas de la piel y mucosa así como las patologías dermatológicas de los pacientes con síndrome de Down son en ocasiones crónicas y de difícil manejo. La xerosis intensa y la dermatitis peribucal resultan en un reto terapéutico para el especialista. El manejo multidisciplinar y proactivo involucrando a la familia y al paciente que es capaz de entender y seguir rutinas resultan fundamentales para evitar complicaciones comunes como la sobreinfección. Las nuevas formulaciones cosméticas que incluyen activos capaces de proteger y restituir la función barrera son de ayuda para evitar las comorbilidades y el uso excesivo de fármacos. Los autores realizan una revisión de las principales patologías y condiciones específicas de la piel así como de las medidas para su correcto manejo.
Palabras clave:
Xerosis
Dermatitis perioral
Trisomía 21
Síndrome Down
Cuidados cosméticos
Article
These are the options to access the full texts of the publication Revista Médica Internacional sobre el Síndrome de Down (English Edition)
Subscribe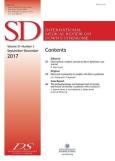 Subscribe to
Revista Médica Internacional sobre el Síndrome de Down (English Edition)
Contact
Phone for subscriptions and reporting of errors
From Monday to Friday from 9 a.m. to 6 p.m. (GMT + 1) except for the months of July and August which will be from 9 a.m. to 3 p.m.
Calls from Spain
932 415 960
Calls from outside Spain
+34 932 415 960
E-mail