Full Text
Histoplasmosis is a systemic mycosis caused by the primary pathogen Histoplasmacapsulatum. Among pets, it is most commonly described in dogs and cats. This fungus is distributed worldwide in countries with temperate and subtropical climates, but is mainly endemic to the USA, with the highest prevalence in the Ohio, Missouri and Mississippi river valleys, where most of the published cases affecting these animals have occurred. In Europe, this mycosis is considered rare and very few autochthonous or imported cases have been described in these animals. A Pubmed search (September 7th, 2021) using the descriptors "Histoplasmosis" AND "dogs" AND "Europe", and "Histoplasmosis" AND "cats" AND "Europe", showed 8 papers only, and 50 when the descriptor was "USA". Among the European cases, most of the articles were from Italy and none from Spain.
The infection is caused by the inhalation of conidia of the mycelial phase of the fungus (Fig. 1), mainly present in soils with nitrogen-rich organic matter (e.g. bird or bat droppings). As a dimorphic fungus, these conidia turn into yeast cells within animal tissues, and can be observed by different histological techniques. Although most infections are usually subclinical, the disease often causes inappetence in dogs and cats, weight loss and fever. Histoplasmosis has various forms, ranging from a mild respiratory disease to disseminated forms that can affect any organ or tissue, such as the spleen, liver, bone marrow, bones and joints.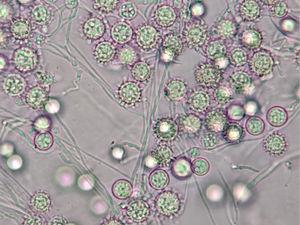 Fig. 1.
Micromorphology of the mycelial phase of Histoplasma capsulatum sensu lato showing numerous rounded and tuberculate macroconidia, which are distinctive of the species. Although not visible in the figure, microconidia, which are generally pyriform and have smooth walls, can also be observed. Fungal culture of the mycelial phase carries a high risk of biological contamination. This species is included into risk group 3 and, therefore, requires BSL3 containment laboratory conditions. Some laboratory-acquired infections due to culture handling have been reported. Photo courtesy of Dina Pedersen. Universidad Nacional del Sur. Bahía Blanca, Argentina. ©.
(0.13MB).
However, two very rare cases of histoplasmosis involving the nasal cavity, with clinical presentations similar to some cryptococcosis and aspergillosis in dogs and cats, have recently been reported. In the first case, a two-year-old cat presented with the classic clinical signs of the sinonasal forms of the aforementioned mycoses: chronic nasal discharge with facial deformity and skin lesions affecting periocular areas.1 In the authors' experience, the diagnosis of histoplasmosis in cats is often delayed. This may be due, in part, to the initial clinical suspicion of more common inflammatory diseases such as cancer, or viral and bacterial infections. In this case, the diagnosis was eventually confirmed by histopathology and fungal culture from nasal lavage fluid. After various treatments, the cat was given itraconazole. More than a year after the first visit, the cat had a negative urine Histoplasma antigen test, which suggested, together with the absence of clinical signs and continued bone remodeling of the nasal cavity, that the cat was in clinical remission. The prognosis of histoplasmosis in cats is variable. Approximately two-thirds of the animals treated survive six months after diagnosis.
In the second case, a four-and-a-half-year-old dog presented with sneezing, unilateral nasal discharge and inflammation of the left nostril for three months.2 Histoplasmosis was diagnosed by both histopathological examination and an ELISA test for detection of Histoplasma antigens. The latter alone is not conclusive, as cross-reactivity with the other agents of endemic mycoses (e.g. blastomycosis, coccidioidomycosis) has been cited. However, it may be useful to monitor the evolution of the infection. On this occasion, fungal culture was not carried out. In order to obtain the mycelial phase of this fungus from animal samples, common culture media (e.g. Sabouraud glucose agar with antibiotic) are incubated at 25–30°C. Due to the slow growth of the fungus, the result of this test can be delayed for several weeks. However, it is considered the gold standard to confirm the diagnosis, together with the reversion of the mycelial phase of the fungus to the yeast phase using enriched media (e.g. brain heart infusion agar) at 37°C. Currently, specific and faster PCR techniques can be used, although they are not standardised or commercially available. In this animal, treatment with oral itraconazole led to the resolution of the nasal signs and the recovery of the nostril shape, with no signs of disease more than 6 years after the last examination. In dogs with histoplasmosis prognosis is variable. Survival rates for these animals with pulmonary, gastrointestinal or disseminated histoplasmosis disease range from 33 to 78%; generally, outcomes are better for patients with localised disease.
Classically, based on the clinical features, geographical distribution and morphology of the fungus, three varieties of this species are recognised: H. capsulatum var. capsulatum, which is a human pathogen with a wide distribution in the Americas and responsible for classical histoplasmosis, H. capsulatum var. duboisii, present in Central and West Africa and responsible for African histoplasmosis, and H. capsulatum var. farciminosum, present in Europe, Asia and North Africa and responsible for epizootic lymphangitis in horses. However, it has been known for some years that these three varieties are artificial and that this species includes different genetic groups. Recently, through genomic studies, four of these genetic groups, all of them endemic to the American continent, have been proposed as new species: H. capsulatum sensu stricto, Histoplasma mississippiense, Histoplasma ohiense and Histoplasma suramericanum.3 On the other hand, although only two strains of the African group were studied, the authors point out that they showed enough genetic differences to be considered as a new species.
At present, we do not know how this new proposed speciation affects the existing isolates recovered from dogs and cats, as no strains from these animals were included in this study. However, since most of the described cases of histoplasmosis are located in the USA, it would not be surprising if the cryptic species H. mississippiense (NAm1 group) and H. ohiense (NAm2 group) were predominant.
Conflict of interest
Author has no conflict of interest.
Acknowledgements
Financial support came from Servei Veterinari de Bacteriologia i Micologia of the Universitat Autònoma de Barcelona.
References
[1]
C.R. Grinstead, A.S. Hanzlicek, H.W. Largura, L.J. Wheat.
Invasive fungal rhinitis with adnexal involvement caused by
Histoplasma capsulatum
in a cat from a non-enzootic location.
[2]
R.M. Heilmann, M.B. Nabity, L.K. Bryan, A.K. Cook, K. Scott.
Mucocutaneous nasal histoplasmosis in an immunocompetent dog.
BMC Vet Res, 17 (2021), pp. 192
[3]
V.E. Sepúlveda, R. Márquez, D.A. Turissini, W.E. Goldman, D.R. Matute.
Genome sequences reveal cryptic speciation in the human pathogen
Histoplasma capsulatum
.
mBio, 8 (2017), pp. e01339-e1417
These Mycology Forum articles can be consulted in Spanish on the Animal Mycology section on the website of the Spanish Mycology Association (https://aemicol.com/micologia-animal/).
Copyright © 2021. Asociación Española de Micología