Full Text
We report a case of Anti-N-methyl-d-aspartate receptor (Anti-NMDAR) encephalitis patient with SARS-CoV-2 infection. A 30 years-old female who was hospitalized on 17th March 2020, with agitation, dysarthria and hallucinations for 3 days. On 20th March 2020 patient started with a fever (>37.5 °C) and chills. A SARS-CoV-2 RT-PCR resulted positive. She was quarantined and treated with Hydroxychloroquine and Lopinavir/Ritonavir. Electroencephalogram showed left fronto-temporal lateralized epileptiform discharges and delta brush pattern. Cerebrospinal fluid (CSF) analysis show hyperproteinorraquia (54.5 mg/dl) and lymphocytic pleocytosis (leukocytes 44/μl with 90% lymphocytes). MRI acquired on April 2020 showed subtle hyperintensity of the left hippocampus on the Fluid-attenuated inversion recovery (FLAIR) sequence (Fig. 1). Two days later both CSF and blood test showed presence of NMDAR antibodies. Patient was treated with methylprednisolone, antiepileptic drugs and immunotherapy. Once cardiothoracic and neurologic symptomatology was stabilized, patient was discharged from the hospital on May 2020 with Rituximab and a neurorehabilitation program. On the follow-up, on September 2020, patient who showed new-onset mnesic cognitive impairment was studied with a brain 18F-FDG PET that showed a slight asymmetry on the left anterior temporal lobe and hypometabolism defects on the postero-medial left temporal lobe and in the right cerebellar hemisphere (Fig. 2). The corregistered imaging with the MRI acquired previously and PET imaging showed a concordance between an increase of signal intensity on the FLAIR image and hypometabolism defect. Patient continued with Rituximab, antiepileptic drugs and neurorehabilitation. On January 2021, a new MRI was performed and an infarction was observed in the right cerebellar hemisphere. Currently patient does not present epileptic seizures and she has mild cognitive impairment. PET quantification showed an asymmetry on left temporal anterior lobe corresponding to hypometabolism asymmetry (Fig. 3). Anti-NMDAR encephalitis is one of the most common types of autoimmune encephalitis characterized by antibodies against the GluN1 subunit of this receptor. NMDAR antibodies have a tropism on hippocampal neurons and from this biological effect derives its main clinical features. Patients are usually young adults, predominantly women, who develop progressive symptoms including abnormal behaviour, autonomic dysfunction, and seizures.1 Recognition of Anti-NMDAR encephalitis is important because, despite its severity, most patients respond to immunotherapy.2 Recently, COVID-19 has been described as a cause of autoimmune encephalitis including Anti-NMDAR encephalitis.1 In autoimmune encephalitis, SARS-CoV-2 virus causing COVID-19 disease leads to brain damage due to the cytokine storm mediated by interleukin mostly IL-2 and IL-6 in the CSF.2 This mechanism may be the cause of hypometabolism in PET related to cortical damage.3 Early hypermetabolism has been described in the mesial temporal areas and could be a marker of active inflammatory process of limbic encephalitis. On the contrary, the hypometabolism pattern including temporal, parietal and occipital areas was observed in the follow-up.3 In addition, MRI FLAIR signal abnormity has been described in autoimmune encephalitis caused by COVID-19 in the temporal lobe and in the basal ganglia.1 The regional infarct involving the right cerebellar cortex may be associated to cerebral thrombotic microangiopathy1,2 as a complication in our case.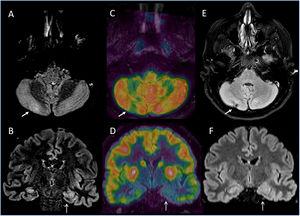 Figure 1.
Axial (A) and coronal (B) slices of diagnosis FLAIR weighted MR imaging. Axial (C) and coronal (D) slices of FDG PET corregistered with MRI software fusion (Xeleris, GE) that shows a left temporal asymmetry metabolic activity including the hippocampal area and hypometabolism defect in the right cerebellar hemisphere (arrows). Axial (E) and coronal (F) follow up MRI show a regional infarct involving the right cerebellar cortex.
(0.18MB).
Figure 2.
Axial (A) and coronal (B) PET FDG slices. Color scale is set to rainbow with occipital lobe activity as a reference region. Visual assessment shows an asymmetry in the anterior left temporal. In addition, subtle hypometabolic defects on the left posteromedial temporal and on the right cerebellar are observed, findings indicated by arrows.
(0.24MB).
Figure 3.
Axial (A) and coronal (B) quantitative PET assessment (SPM) by neurocloud.es software quantification platform, using AAL atlas (z-score). Red areas indicate a more extended hypometabolic asymmetry than hypometabolism observed on the visual evaluation in the left anterior temporal lobe (with 3 SD). R = right, L = left, S = superior, I = inferior.
(0.17MB).
References
[1]
G. Monti, G. Giovannini, A. Marudi, R. Bedin, A. Melegari, A.M. Simone, et al.
Anti-NMDA receptor encephalitis presenting as new onset refractory status epilepticus in COVID-19.
Seizure, 81 (2020), pp. 18-20
[2]
Y.M. Kamal, Y. Abdelmajid, A.A.R. Al Madani.
Cerebrospinal fluid confirmed COVID-19-associated encephalitis treated successfully.
[3]
Y.C. Wei, J.R. Tseng, C.L. Wu, F.C. Su, W.C. Weng, C.C. Hsu, et al.
Different FDG-PET metabolic patterns of anti-AMPAR and anti-NMDAR encephalitis: Case report and literature review.
Please cite this article as: Mestre Fusco A, Beltrán Mármol B, Álvarez Bravo G, Ferran Sureda N, Negre Busó M, Rubió Rodríguez A. Imagen PET corregistrada con RM en paciente con encefalitis anti-NMDAR con infección por SARS-CoV-2. Rev Esp Med Nucl Imagen Mol. 2021. https://doi.org/10.1016/j.remn.2021.07.003
Copyright © 2021. Sociedad Española de Medicina Nuclear e Imagen Molecular