Article information
Abstract
Full Text
Bibliography
Download PDF
Statistics
Abstract
Introduction
Perivascular epithelioid cell (PEC) is a cell type constantly present in a group of tumours including angiomyolipoma (AML), clear-cell "sugar" tumour (CCST) of the lung and extrapulmonary sites, lymphangioleiomyomatosis (LAM), and clear-cell tumours of other anatomical sites. It has morphologic distinctive features: epithelioid appearance with a clear to granular cytoplasm, a round to oval, centrally located nucleus and an inconspicuous nucleolus. Immunohistochemically, PEC expresses myogenic and melanocytic markers. Eleven cases of primary bone PEComa presentation have been described since 2002.
Objective
To report a case of primary bone perivascular epithelioid cell tumour.
Case report
24 year-old male presented with pain. X-ray revealed an osteolytic lesion at right proximal tibia with soft tissue extension. Evaluation of slides identified a bony perivascular epithelioid cell tumour without immunohistochemical study confirmation.
Results
Patient was treated by surgical excision and adjuvant chemotherapy (epirubicin/cysplatin). After two years of follow-up the patient remains disease free.
Conclusions
This is the first-case report in Latin America. Immunohistochemical stains were negative and we believe it may be due to non-described ethnic variations.
Keywords:
Perivascular epithelioid cell tumour
Bone
Tibia
Resumen
Introducción
La célula perivascular epiteloide (PEC) es un tipo celular constante presente en un grupo de tumores que incluyen el angiomiolipoma, tumores «de azúcar» de células claras pulmonares y de sitios extrapulmonares, linfangioleiomiomatosis, entre otros. Las características de la PEC incluyen: apariencia epiteloide con citoplasma claro agranular, un núcleo central redondo a oval y un nucléolo discreto además de expresar marcadores inmunohistoquímicos únicos. Únicamente han sido descritos 11 casos de presentación ósea primaria desde su primer reporte en 2002.
Objetivo
Presentar el caso de un tumor de células perivasculares epiteloides óseo primario.
Reporte de caso
Varón de 24 años de edad con dolor de un año de evolución y lesión lítica de tibia proximal derecha y extensión a partes blandas. Diagnóstico histológico de tumor de células perivasculares epiteloides óseo e inmunohistoquímica negativa.
Resultados
Seguimiento de 2 años después del tratamiento con quimioterapia adyuvante (epirrubicina/cisplatino) y de la resección en bloque; el paciente se encuentra libre de enfermedad.
Conclusiones
Este es el primer caso de tumor de células perivasculares epiteloides óseo primario reportado en Latinoamérica. No encontramos los marcadores inmunohistoquímicos y creemos que esto puede deberse a variaciones étnicas no descritas.
Palabras clave:
Tumor de células perivasculares epiteloides
Óseo
Tibia
Article
These are the options to access the full texts of the publication Revista Española de Cirugía Ortopédica y Traumatología (English Edition)
Subscribe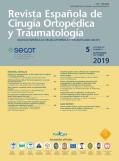 Subscribe to
Revista Española de Cirugía Ortopédica y Traumatología (English Edition)
Contact
Phone for subscriptions and reporting of errors
From Monday to Friday from 9 a.m. to 6 p.m. (GMT + 1) except for the months of July and August which will be from 9 a.m. to 3 p.m.
Calls from Spain
932 415 960
Calls from outside Spain
+34 932 415 960
E-mail