Article information
Abstract
Full Text
Bibliography
Download PDF
Statistics
Abstract
Remote cerebellar haemorrhage is a rare but serious complication after spinal surgery. Although the mechanism is not well known, it always occurs after loss of cerebrospinal fluid due to dural tear, not always identified, which produces remote venous bleeding. Prognosis depends largely on the severity of this bleeding.
We report a case of 67-year-old female who suffered a cerebellar and subarachnoid haemorrhage and subdural haematoma after elective lumbar fusion surgery and eventually required decompressive craniectomy.
Keywords:
Remote cerebellar haemorrhage
Spinal surgery
Dural tear
Cerebrospinal fluid leakage
Complication
Venous bleeding
Resumen
La hemorragia cerebelosa (HC) distal es una complicación infrecuente pero grave tras cirugía espinal. Aunque el mecanismo de aparición sigue siendo desconocido, sucede tras la pérdida de líquido cefalorraquídeo (LCR) por desgarro dural, no siempre objetivado, lo que produce un sangrado venoso a distancia. El pronóstico depende en gran medida de la gravedad de dicha hemorragia.
Se presenta el caso de una mujer de 67 años que sufrió, además de HC, hemorragia subaracnoidea (HSA) y hematoma subdural (HS) tras artrodesis lumbar programada que requirió craniectomía descompresiva.
Palabras clave:
Hematoma cerebeloso distal
Cirugía espinal
Fístula dural
Pérdida de líquido cefalorraquídeo
Complicación
Sangrado venoso
Article
These are the options to access the full texts of the publication Revista Española de Cirugía Ortopédica y Traumatología (English Edition)
Subscribe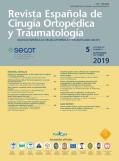 Subscribe to
Revista Española de Cirugía Ortopédica y Traumatología (English Edition)
Contact
Phone for subscriptions and reporting of errors
From Monday to Friday from 9 a.m. to 6 p.m. (GMT + 1) except for the months of July and August which will be from 9 a.m. to 3 p.m.
Calls from Spain
932 415 960
Calls from outside Spain
+34 932 415 960
E-mail