Article information
Abstract
Full Text
Bibliography
Download PDF
Statistics
Abstract
Objective
To analyse a series of patients with bone tumours reconstructed with modular prostheses and to evaluate: (1) Survival of the implant. (2) Causes of failure. (3) Complication rates. (4) Limb salvage overall survival. (5) Functional results and full weight bearing.
Materials and methods
A retrospective study from longitudinally maintained oncology databases was undertaken. All patients with bone tumours reconstructed with endoprosthesis were analysed. A total of 106 patients matched the inclusion criteria. They were divided into groups: group 1, primary bone tumours; group 2, bone metastasis; group 3, osteoarticular allograft reconstruction revisions. The type of failures were classified according to Henderson et al. (2014) and functional results assessed by the Musculoskeletal Tumor Society (MSTS). Demographic analysis, survival and the differences between groups were recorded.
Result
The mean follow-up of the patients was 68 months. Mean age was 43 years. Overall implant survival was 86.4% at 2 years (95% CI: 79–94) and 73% at 5 years (95% CI: 60–80). Nineteen patients (18%) developed a prosthetic failure. The limb salvage overall survival was 96% at 5 years (95% CI: 91–99). The mean functional results according to the MSTS was 24 and mean time to full weight bearing was 2.3 weeks.
Conclusions
Limb conservation surgery and endosprosthetic reconstruction is a valid option for patients with bone tumours with failure rates similar to other reconstruction methods.
Keywords:
Bone tumour
Endoprosthesis reconstruction
Limb preservation
Resumen
Objetivo
Analizar una serie de pacientes oncológicos tratados con prótesis modulares y evaluar: 1) Supervivencia del implante. 2) Causas de fracaso. 3) Tasa de reintervención. 4) Supervivencia del miembro. 5) Resultados funcionales y tiempo hasta la carga completa.
Materiales y métodos
Se realizó una búsqueda retrospectiva en una base de datos oncológica entre marzo de 2001 y agosto de 2015 de pacientes con tumores óseos y pacientes con cirugía de revisión de trasplantes óseos reconstruidos con endoprótesis. Se incluyó a 106 pacientes con seguimiento mínimo de 2 años. Se dividió la población en 3 grupos: grupo 1, tumores óseos primarios; grupo 2, metástasis ósea; grupo 3, revisiones de trasplantes óseos masivos. Las causas de fracasos fueron clasificadas según Henderson et al. (2014) y la funcionalidad se evaluó según el la escala de la Musculoskeletal Tumor Society (MSTS). Se realizó análisis demográfico, estimación de la supervivencia y se compararon las diferencias entre grupos.
Resultados
El seguimiento medio de los pacientes fue de 68 meses. La edad promedio fue de 43 años. La supervivencia global del implante fue del 86% a 2 años (IC 95%: 79-94) y del 73% a 5 años (IC 95%: 60-80). Diecinueve pacientes (18%) presentaron fracaso protésico, con revisión. La conservación del miembro en nuestra serie fue del 96% a 5 años (IC 95%: 91-99). Los resultados funcionales promedio según la escala de la MSTS fueron de 24 y el tiempo medio para carga completa de 2, 3 semanas.
Conclusión
La cirugía de conservación de miembro representa el tratamiento de elección en pacientes con tumores óseos y la reconstrucción con endoprótesis resulta una alternativa válida, con índices de fracaso similares a otras reconstrucciones.
Palabras clave:
Tumores óseos
Prótesis modulares
Conservación de miembro
Article
These are the options to access the full texts of the publication Revista Española de Cirugía Ortopédica y Traumatología (English Edition)
Subscribe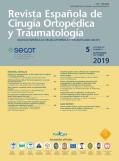 Subscribe to
Revista Española de Cirugía Ortopédica y Traumatología (English Edition)
Contact
Phone for subscriptions and reporting of errors
From Monday to Friday from 9 a.m. to 6 p.m. (GMT + 1) except for the months of July and August which will be from 9 a.m. to 3 p.m.
Calls from Spain
932 415 960
Calls from outside Spain
+34 932 415 960
E-mail