Article information
Abstract
Full Text
Bibliography
Download PDF
Statistics
Abstract
Posterior lumbar screw fixation is a common surgical procedure nowadays. However, it can sometimes produce complications that can be devastating. One of the less common causes of major complication is the misplacement of a pedicle screw. This highlights the importance of being methodical when placing pedicle screws, and checking that the pathway has been created correctly and their placement.
We present a case of a massive bleed after a pedicular screw placement during lumbar canal stenosis surgery. Screw malposition led to intraoperative haemodynamic instability after failed attempts to control bleeding in the surgical site. Contrast enhanced CT imaging revealed a lumbar intersegmentary artery injury that was eventually controlled by means of a coil embolisation.
Keywords:
Pedicular screw
Pseudoaneurysm
Arteriography
Embolisation
Resumen
La fusión instrumentada lumbar por vía posterior se realiza de manera habitual hoy en día, aunque en algunas ocasiones puede inducir complicaciones que pueden llegar a ser devastadoras. Una de las causas, aunque poco frecuentes, de complicación mayor es la malposición de los tornillos pediculares, de ahí la importancia de ser metódicos a la hora de su colocación, comprobando el correcto labrado del trayecto y su introducción.
Presentamos un caso de sangrado masivo tras la introducción de un tornillo pedicular lumbar durante una cirugía por estenosis de canal. La malposición del tornillo conllevó la inestabilidad hemodinámica intraoperatoria de la paciente tras el fracaso de los métodos habituales de control de sangrado en el campo quirúrgico. La realización de una TAC con contraste evidenció lesión de la arteria intersegmentaria lumbar que fue finalmente controlada mediante embolización e implantación de coil vascular.
Palabras clave:
Tornillo transpedicular
Pseudoaneurisma
Arteriografía
Embolización
Article
These are the options to access the full texts of the publication Revista Española de Cirugía Ortopédica y Traumatología (English Edition)
Subscribe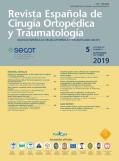 Subscribe to
Revista Española de Cirugía Ortopédica y Traumatología (English Edition)
Contact
Phone for subscriptions and reporting of errors
From Monday to Friday from 9 a.m. to 6 p.m. (GMT + 1) except for the months of July and August which will be from 9 a.m. to 3 p.m.
Calls from Spain
932 415 960
Calls from outside Spain
+34 932 415 960
E-mail