Article information
Abstract
Full Text
Bibliography
Download PDF
Statistics
Abstract
Intracraneal bleeding is a rare complication after raquis surgery. It is believed to occur as a drop in the intracraneal pressure after a loss of CSF secondary to an iatrogenic dural tear. We report a patient who after surgery for lumbar stenosis presented a subarachnoid haemorrhage, an intraparenchymal haematoma, and a subdural haematoma. To our knowledge, this is the first report in the literature with such complications after this type of surgery.
Keywords:
Dural tear
Lumbar surgery
Post-surgery complication
Intracranial haemorrhage
Resumen
La hemorragia intracraneal es una complicación poco frecuente tras la cirugía de raquis lumbar. Se cree que esta complicación se produce por una caída en la presión intracraneal tras una pérdida de líquido cefalorraquídeo a través de una brecha dural iatrogénica. Presentamos el caso clínico de una paciente que presentó una hemorragia subaracnoidea, un hematoma intraparenquimatoso y un hematoma subdural tras una intervención de estenosis de canal lumbar. No hemos encontrado en la literatura revisada sobre el tema ningún caso que presente tal asociación hemorrágica tras una cirugía de este tipo.
Palabras clave:
Lesión dural
Cirugía raquis lumbar
Complicación posquirúrgica
Hemorragia intracraneal
Article
These are the options to access the full texts of the publication Revista Española de Cirugía Ortopédica y Traumatología (English Edition)
Subscribe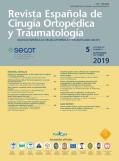 Subscribe to
Revista Española de Cirugía Ortopédica y Traumatología (English Edition)
Contact
Phone for subscriptions and reporting of errors
From Monday to Friday from 9 a.m. to 6 p.m. (GMT + 1) except for the months of July and August which will be from 9 a.m. to 3 p.m.
Calls from Spain
932 415 960
Calls from outside Spain
+34 932 415 960
E-mail