Article information
Abstract
Full Text
Bibliography
Download PDF
Statistics
Abstract
Introduction
Diaphyseal fractures of the forearm comprise 6%–10% of all fractures in children. The treatment depends on the age and type of displacement, and conservative and surgical management with fixation of intramedullary nails, among other techniques, is valid. The aim is to show the radiological and functional outcomes, and complications of intramedullary fixation with Kirschner nails in children.
Materials and methods
A retrospective descriptive case series of patients treated with intramedullary fixation of forearm fractures. The radiological and functional results, and complications are correlated.
Results
Of the 117 patients operated, 59 met the inclusion criteria. The average age was 10 years. Eighty-four point seven percent were males and the left side was the most affected (62.7%). In 88.1% both bones were fractured and 11 cases had open fractures. An open reduction was performed in 72.8% of the cases, the main indications for this being instability, failed reduction and refracture. There were 52 excellent outcomes, 2 good, and 4 regular and 1 bad. There were 13.5% minor complications.
Discussion
This study shows that intramedullary fixation with Kirschner nails in radius and ulna diaphysis fractures in children is a safe, low-cost procedure and offers adequate short and medium term functional outcomes, with a low prevalence of serious complications with only 6 cases of non-consolidation and refracture. Larger preoperative angulations in the anteroposterior and lateral planes, and lateral postoperative angulations, could be considered predictors of less satisfactory functional results.
Keywords:
Forearm
Radius fractures
Ulna fractures
Intramedullary fractures fixation
Resumen
Introducción
Las fracturas diafisarias del antebrazo constituyen el 6-10% de todas las fracturas en niños. El tratamiento depende de la edad y el tipo de desplazamiento y son válidos el manejo conservador y quirúrgico con fijación de clavos intramedulares entre otros. El objetivo es mostrar los resultados radiológicos y funcionales, y las complicaciones de la fijación intramedular con clavos de Kirschner en niños.
Materiales y métodos
Es una serie de casos retrospectiva descriptiva de pacientes operados con fijación intramedular de fracturas de antebrazo. Se correlacionan los resultados radiológicos y funcionales y las complicaciones.
Resultados
De 117 pacientes operados, 59 cumplían criterios de inclusión. La edad promedio fue 10 años. El 84,7% de ellos fueron hombres y el izquierdo el lado más afectado (62,7%). El 88,1% de ambos huesos estaban fracturados y 11 casos tenían fracturas abiertas. Se realizó reducción abierta en el 72,8% de los casos cuyas principales indicaciones fueron inestabilidad, reducción fallida y refractura. Se tuvieron 52 resultados excelentes, 2 buenos, 4 regulares y uno malo. Hubo un 13,5% de complicaciones menores.
Discusión
Este estudio muestra que la fijación intramedular con clavos de Kirschner en fracturas de diáfisis de radio y cúbito de niños es un procedimiento seguro, de bajo costo y que ofrece a corto y mediano plazo adecuados resultados funcionales, con una prevalencia baja de complicaciones graves, con solo 6 casos de no consolidación y refracturas. Las angulaciones preoperatorias mayores en los planos anteroposterior y lateral, y angulaciones posoperatorias en el plano lateral, podrían considerarse predictores de resultados funcionales menos satisfactorios.
Palabras clave:
Antebrazo
Fracturas del radio
Fracturas del cúbito
Fijación intramedular de fracturas
Article
These are the options to access the full texts of the publication Revista Española de Cirugía Ortopédica y Traumatología (English Edition)
Subscribe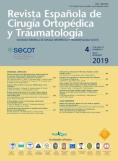 Subscribe to
Revista Española de Cirugía Ortopédica y Traumatología (English Edition)
Contact
Phone for subscriptions and reporting of errors
From Monday to Friday from 9 a.m. to 6 p.m. (GMT + 1) except for the months of July and August which will be from 9 a.m. to 3 p.m.
Calls from Spain
932 415 960
Calls from outside Spain
+34 932 415 960
E-mail