Article information
Abstract
Full Text
Bibliography
Download PDF
Statistics
Abstract
Introduction
In the Spanish population, previous studies related to mortality after hip fracture are based on patients aged 60–102 years and did not stratify patients according to the type of fracture. The objective of this study was to identify the factors with influence on mortality at one postoperative year in patients aged 80 years or older after a femoral neck fracture.
Material and method
Retrospective study of cases and controls. Consecutive patients operated between 2015 and 2016 were included. Baseline characteristics, medical history and previous medication, analytical parameters, Charlson index, ASA scale, Barthel index and Pfeiffer questionnaire were studied. Surgical data and complications were recorded during follow-up. Survival was assessed by the Kaplan–Meier method and the variables that affected it by Cox regression.
Results
Mortality one year postoperatively was 21.1% and mean survival 10.3months (95% CI: 9.7–10.9). The Cox regression showed that age >87years, Barthel score≤85 and the combination of anticoagulants with INR≥1.5 were significant predictors of mortality during the first year of follow-up.
Conclusion
The predictors of mortality during the first postoperative year after femoral neck fracture in octogenarian or older patients were: age >87years, physical dependence measured by a Barthel index score≤85, and the use of anticoagulants with a INR≥1.5 at admission.
Keywords:
Hip fracture
Mortality
Predictors
Resumen
Introducción
En la población española los estudios previos relacionados con la mortalidad tras fractura de cadera están basados en pacientes con edades entre 60 a 102años y no estratificaban los pacientes de acuerdo con el tipo de fractura. El objetivo de este estudio fue identificar los factores con influencia sobre la mortalidad al año postoperatorio en pacientes de 80años o más que sufrieron una fractura cervical de cadera.
Material y método
Estudio retrospectivo de casos y controles. Fueron incluidos los pacientes consecutivos intervenidos entre 2015 y 2016. Se estudiaron las características basales, los antecedentes y la medicación previa, los parámetros analíticos, el índice de Charlson, la escala ASA, el índice de Barthel y el cuestionario Pfeiffer. Se registraron los datos quirúrgicos y las complicaciones durante el seguimiento. La supervivencia se evaluó mediante el método de Kaplan-Meier y las variables que la afectaban mediante la regresión de Cox.
Resultados
La mortalidad al año postoperatorio fue del 21,1% y la supervivencia media de 10,3meses (IC95%: 9,7-10,9). La regresión de Cox mostraba que la edad >87años, la puntuación de Barthel ≤85 y la combinación de anticoagulantes con INR ≥1,5 eran predictores significativos de mortalidad durante el primer año de seguimiento.
Conclusión
Los factores predictores de mortalidad durante el primer año postoperatorio por fractura cervical de cadera en pacientes octogenarios o mayores fueron la edad >87años, la dependencia física medida a través de una puntuación en el índice de Barthel ≤85 y el uso de anticoagulantes con un INR ≥1,5 al ingreso.
Palabras clave:
Fractura de cadera
Mortalidad
Predictores
Article
These are the options to access the full texts of the publication Revista Española de Cirugía Ortopédica y Traumatología (English Edition)
Subscribe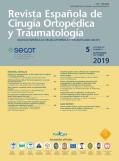 Subscribe to
Revista Española de Cirugía Ortopédica y Traumatología (English Edition)
Contact
Phone for subscriptions and reporting of errors
From Monday to Friday from 9 a.m. to 6 p.m. (GMT + 1) except for the months of July and August which will be from 9 a.m. to 3 p.m.
Calls from Spain
932 415 960
Calls from outside Spain
+34 932 415 960
E-mail