Article information
Abstract
Full Text
Bibliography
Download PDF
Statistics
Abstract
Introduction
The management of postoperative pain in joint replacement surgery represents a challenge. Therefore, the advent of new strategies in the management of pain such as local infiltration analgesia (LIA) and the adductor canal block, allowed an adequate postoperative pain control and early rehabilitation of the patient in total knee arthroplasty.
Materials and methods
A descriptive, observational and longitudinal study of a prospective cohort of patients operated by the group of joint replacements between September 29, 2017 and November 30, 2017 was conducted. They were evaluated with the analog pain scale for postoperative pain at 5 different times (1. Upon leaving recovery, 2. On the first postoperative day, 3. Before initiating in-hospital physical therapy, 4. At the end of physical therapy, 5. Upon departure from the clinic).
Results
Of the 141 patients operated on, 70.9% of the patients were managed with LIA and 29.1% with adductor canal block. There were no differences between groups in postoperative pain assessment during the 5 different times (p ≥ .45).
Discussion
Our results indicate that LIA and the adductor canal blockade demonstrated the same efficacy for the control of postoperative pain and rehabilitation.
Keywords:
Blocking
Arthroplasty
Pain
Infiltration
Rehabilitation
Resumen
Introducción
El manejo del dolor posoperatorio en la cirugía de reemplazos articulares representa un desafío. Por ello el advenimiento de nuevas estrategias en el manejo del dolor como la analgesia por infiltración local (LIA) y el bloqueo del canal de los aductores, han permitido un adecuado control del dolor posoperatorio y con ello la rehabilitación temprana del paciente en cirugía de reemplazo articular.
Materiales y métodos
Se realizó un estudio descriptivo, observacional y longitudinal de cohorte prospectiva de pacientes intervenidos por el grupo de reemplazos articulares entre el 29 de septiembre de 2017 y el 30 de noviembre de 2017. Los cuales fueron evaluados con la escala análoga del dolor (EVA) para dolor postoperatorio en 5 momentos diferentes (1. Al salir de recuperación, 2. En el primer día de posoperatorio, 3. Antes de iniciar terapia física intrahospitalaria, 4. Al finalizar terapia física, 5. Al momento de salida de la clínica).
Resultados
De los 141 pacientes intervenidos el 70.9% de los pacientes fueron manejados con LIA y el 29.1% con bloqueo. Se encontró que para cada momento de la evaluación del dolor posoperatorio había una distribución semejante en los desenlaces tanto para el grupo de LIA como bloqueo, con la obtención de valores de p ≥ 0,45.
Discusión
Nuestros resultados indican que tanto la LIA como el bloqueo del canal de los aductores demostraron la misma eficacia para el control del dolor posoperatorio, y así mismo la rehabilitación temprana (marcha y movilidad) del paciente.
Palabras clave:
Bloqueo
Artroplastia
Dolor
Infiltración
Rehabilitación
Article
These are the options to access the full texts of the publication Revista Española de Cirugía Ortopédica y Traumatología (English Edition)
Subscribe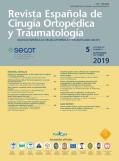 Subscribe to
Revista Española de Cirugía Ortopédica y Traumatología (English Edition)
Contact
Phone for subscriptions and reporting of errors
From Monday to Friday from 9 a.m. to 6 p.m. (GMT + 1) except for the months of July and August which will be from 9 a.m. to 3 p.m.
Calls from Spain
932 415 960
Calls from outside Spain
+34 932 415 960
E-mail