Article information
Abstract
Full Text
Bibliography
Download PDF
Statistics
Abstract
Background
The management of complete bone defects in hip and knee periprosthetic infection is still a real surgical challenge.
Material and methods
We present a technical modification for performing a biarticular total femoral spacer with a femoral nail without the need to approach the proximal tibia.
Results
Three patients were operated with this technique. There was no intraoperative complication. The infection was resolved in all patients operated at final follow-up. All patients improved their previous functional situation and could walk with different aids.
Conclusions
This technical modification is an alternative for cases where it is necessary to resect the complete femur, but it is not necessary to approach the tibia.
Keywords:
Periprosthetic joint infection
Femoral spacer
Massive bone loss
Two stages revision
Biarticular spacer
Resumen
Antecedentes
El manejo de los defectos óseos completos secundarios a una infección periprotésica a nivel de la cadera y/o rodilla continúa siendo un auténtico reto quirúrgico.
Material y métodos
Presentamos una modificación técnica para la realización de un espaciador femoral biarticulado con un enclavado femoral, sin necesidad de abordar la tibia proximal, ya sea para obtener la fijación del espaciador o la articulación del mismo.
Resultados
Se han intervenido 3 pacientes mediante esta técnica, no existiendo ninguna complicación intraoperatoria, resolviéndose la infección y mejorando la función previa en todos ellos, volviendo a deambular con diferentes ayudas.
Conclusiones
Esta modificación técnica es una alternativa en aquellos casos donde es preciso resecar el fémur completo pero no es necesario abordar la tibia.
Palabras clave:
Infección periprotésica
Espaciador femoral
Pérdida ósea masiva
Revisión en dos tiempos
Espaciador biarticulado
Article
These are the options to access the full texts of the publication Revista Española de Cirugía Ortopédica y Traumatología (English Edition)
Subscribe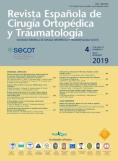 Subscribe to
Revista Española de Cirugía Ortopédica y Traumatología (English Edition)
Contact
Phone for subscriptions and reporting of errors
From Monday to Friday from 9 a.m. to 6 p.m. (GMT + 1) except for the months of July and August which will be from 9 a.m. to 3 p.m.
Calls from Spain
932 415 960
Calls from outside Spain
+34 932 415 960
E-mail