Article information
Abstract
Full Text
Bibliography
Download PDF
Statistics
Abstract
Objective
To review the complications associated with the minimally invasive retropleural approach used in the anterior approach to the thoraco-lumbar spine.
Material and method
We present the MIS surgical technique and the evaluation of data collected prospectively from the initial series of 31 patients undergoing surgery. Pleural opening during the approach, lung complications derived, other surgical complications, time of intervention, intraoperative bleeding, need for transfusion and hospital stay are evaluated.
Discussion
The mean age of the patients was 58 years, the surgical time 225min, and the bleeding 274ml, with a 13% postoperative transfusion. Intraoperatively, pleural opening was detected in 8 cases, of which none had major pulmonary complications during the postoperative period. There were 3 cases of mild pleural effusion, all patients without pleural opening, and one case of haemopneumothorax due to intercostal vessel bleeding that required reoperation. The percentage of intercostal neuralgia was 3%. The mean hospital stay was 6.7 days, and 24 of 31 patients were able to initiate early mobilization on the first postoperative day.
Conclusions
The retropleural approach allows the surgical treatment of pathologies requiring anterior access to the thoraco-lumbar spine, with a low profile of pulmonary complications, and with the advantages of minimally invasive techniques in terms of less bleeding, early recovery and shorter hospital stay. Nevertheless the learning curve is long.
Keywords:
Retropleural approach
Thoraco-lumbar spine
Minimally invasive
Resumen
Objetivo
Revisar las complicaciones asociadas al abordaje retropleural mínimamente invasivo utilizado en el abordaje anterior a la columna toracolumbar.
Material y método
Se presenta la técnica quirúrgica y la evaluación de datos recogidos de manera prospectiva de la serie inicial de 31 pacientes intervenidos. Se evalúa la apertura de pleura durante el abordaje, las complicaciones pulmonares derivadas, otras complicaciones quirúrgicas, el tiempo de intervención, el sangrado intraoperatorio, la necesidad de transfusión y la estancia hospitalaria.
Resultados
La edad media de los pacientes fue de 58años, el tiempo quirúrgico de 225min y el sangrado de 274ml, con un 13% de transfusión en el postoperatorio. De forma intraoperatoria se detectó la apertura de la pleura en 8casos, de los cuales ninguno tuvo complicaciones mayores pulmonares durante el postoperatorio. Se produjeron 3 casos de derrame pleural leve en pacientes sin apertura de pleura, y un caso de hemoneumotórax por sangrado de vaso intercostal que requirió reintervención. El porcentaje de neuralgia intercostal fue del 3%. La estancia media hospitalaria fue de 6,7días, y 24 de 31 pacientes pudieron iniciar movilización precoz el primer día postoperatorio.
Conclusiones
El abordaje retropleural permite el tratamiento quirúrgico de patologías que requieren un acceso anterior a la columna toracolumbar, con un perfil bajo de complicaciones pulmonares y con las ventajas de las técnicas mínimamente invasivas en cuanto a menor sangrado, recuperación precoz y menos estancia hospitalaria. Su curva de aprendizaje es larga.
Palabras clave:
Abordaje retropleural
Columna toracolumbar
Cirugía mínimamente invasiva
Article
These are the options to access the full texts of the publication Revista Española de Cirugía Ortopédica y Traumatología (English Edition)
Subscribe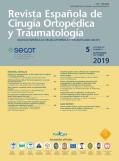 Subscribe to
Revista Española de Cirugía Ortopédica y Traumatología (English Edition)
Contact
Phone for subscriptions and reporting of errors
From Monday to Friday from 9 a.m. to 6 p.m. (GMT + 1) except for the months of July and August which will be from 9 a.m. to 3 p.m.
Calls from Spain
932 415 960
Calls from outside Spain
+34 932 415 960
E-mail