Full Text
To the Editor:
With regard to the special article "Why is the COVID-19 epidemic in Africa less intense?" published on 26 June 2020 in your journal, I would like to suggest other reasons for the rate of infection in Africa compared to other continents.
In the aforementioned article, "intensity" refers to the cumulative incidence and mortality, but does not distinguish between these estimates. In this regard, it is essential to factor underreporting into the equation when comparing cases in Africa with other continents. For example, the fact that many African countries have based their diagnostic strategy on rapid antigen tests that do not always detect active cases, or that age under 65 years is a protective factor for COVID-related mortality, has meant that many cases of mild or moderate coronavirus infection among the young population remain undetected1,2.
The author of the article bases the low intensity of the pandemic on 4 factors: climatic factors, differences in population pyramids, differences in the immune system and, finally, socio-political factors3.
Admitting the hypothesis of case underestimation, in terms of climatic factors, the pandemic has affected each continent differently (Fig. 1). But the intensity of the pandemic in Africa might not be influenced so much by climatic factors as by the late arrival of the virus on the continent due to early border closure, fewer foreign visitors and flights, and low-density urban areas. All these factors have contributed to the uneven spread of the virus around the planet4.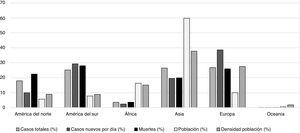 Figure 1.
Percentage of total cases, new cases per day, deaths, population and population density by continents. (Source: compiled by author based on data published on 25 November 2020 by WorldoMeters5).
(0.11MB).
With respect to population pyramids, coronavirus is less severe among young patients, but fatality rates are higher in Africa than Europe (Fig. 2). Based on the foregoing, we could speculate that the underreporting rate among less serious cases is in fact higher, while the serious cases, which are the ones notified, are more likely to be fatal.
Figure 2.
Lethality (percentage of deaths among positive coronavirus cases) by continent. (Source: compiled by author based on data published on 25 November 2020 by WorldoMeters5).
(0.08MB).
There is little scientific evidence to support a potential genetic COVID-19 resistance in the African population, since that same population in North America has been the hardest hit by the pandemic - a factor, as the author also points out, that has been associated more with socioeconomic inequalities than genetic resistance1.
Other factors, however, such as the lack of intensive care resources and intensivists in the fragile African health system, and a lack of sophistication in intensive care units, are circumstances that must be factored in when analysing the intensity of the pandemic in Africa.
From a qualitative point of view, hearing people say "I'd rather die from COVID than from hunger" suggest that there are other factors that more directly affect the evolution of the pandemic and its social consequences in Africa, such as hunger and prevailing north-south inequalities.
Controlling the spread of the infection in Africa and responding appropriately to the increase in the number of cases is an urgent priority. Only a globalised approach to the pandemic will eradicate the disease from the planet. Without appropriate action, we will be condemned to live with COVID-10 for years to come, unless the virus extinguishes itself.
Funding
This study did not receive any financial support.
Conflict of interests
The authors have no conflict of interest to declare.
Please cite this article as: González-Rodríguez R. Propagación de casos COVID-19 en África. Carta al Director a colación del artículo: ¿Por qué es menos «intensa» la epidemia de COVID-19 en África? Rev Esp Anestesiol Reanim. 2021;68:607–608.
Copyright © 2021. Sociedad Española de Anestesiología, Reanimación y Terapéutica del Dolor