Article information
Abstract
Full Text
Bibliography
Download PDF
Statistics
Tables (3)
Table 1. Sociodemographic characteristics of patients with a diagnosis of fibromyalgia and neuropsychiatric comorbidity.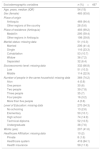 Abstract
Introduction
Fibromyalgia is a common cause of chronic pain in the world, with a prevalence of 0.2–6.4% in the general population. These patients are more likely to have neuropsychiatric disorders. The objective of this study was to describe the sociodemographic and clinical profile of patients with fibromyalgia and neuropsychiatric comorbidity.
Methods
A cross-sectional, descriptive study was conducted in which Information was collected from the medical records of patients with fibromyalgia and neuropsychiatric comorbidity, from specialist institution in Antioquia, during the years 2010 to 2016. Descriptive statistics tools were applied.
Results
Of the 1106 medical records with a confirmed diagnosis of fibromyalgia, 497 had neuropsychiatric comorbidity. The median age was 54 years (IQR 15), and the majority were women, residing in an urban area, and were married or living with their partner. Low-medium socioeconomic status and basic-medium educational level were the most reported. The most frequent symptoms were sleep disturbances (70.6%), myalgia (66.4%), and chronic fatigue (55.9%). The most frequent neuropsychiatric disorders were depression (85.7%), migraine (35%), and anxiety (14.7%). The most commonly used drugs were serotonin and dual reuptake inhibitors, acetaminophen, and GABAergic drugs. A low percentage was managed with complementary therapies and psychological intervention.
Conclusions
Fibromyalgia and neuropsychiatric diseases are diseases that frequently coexist. Although the sociodemographic and clinical presentation is as described in the literature, the presence of depression was greater in this population. A multidisciplinary therapeutic approach would favor the quality of life of the patients and the course of the disease.
Keywords:
Anxiety
Depression
Fibromyalgia
Migraine
Chronic fatigue syndrome
Sleep disorders
Resumen
Introducción
La fibromialgia es una causa común de dolor crónico en el mundo, con una prevalencia en la población general del 0,2% al 6,4%. Estos pacientes tienen una mayor probabilidad de presentar trastornos neuropsiquiátricos. El objetivo fue describir el perfil sociodemográfico y clínico de pacientes con fibromialgia y comorbilidad neuropsiquiátrica.
Métodos
Estudio transversal, descriptivo. Se recolectó información de las historias clínicas de pacientes con fibromialgia y comorbilidad neuropsiquiátrica, de una institución especializada en Antioquia, durante los años 2010 al 2016. Se aplicaron herramientas de estadística descriptiva.
Resultados
De 1.106 registros médicos con diagnóstico confirmado de fibromialgia, 497 presentaban comorbilidad neuropsiquiátrica. La mediana de edad fue de 54 años (RIC 15), la mayoría eran mujeres, residían en zona urbana y estaban casados o convivían con su pareja. Estatus socioeconómico bajo-medio y nivel educativo básico-medio, fueron los más reportados. Los síntomas más frecuentes fueron alteraciones del sueño (70,6%), mialgias (66,4%) y fatiga crónica (55,9%). Los trastornos neuropsiquiátricos más frecuentes fueron depresión (85,7%), migraña (35%) y ansiedad (14,7%). Los fármacos más utilizados fueron los inhibidores de la recaptación de serotonina y duales, acetaminofén y gabaérgicos. Manejo con terapias complementarias e intervención psicológica se observaron en baja proporción.
Conclusiones
La fibromialgia y las enfermedades neuropsiquiátricas son patologías que coexisten con frecuencia; la presentación sociodemográfica y clínica es similar a lo descrito en la literatura, sin embargo, la presencia de depresión en esta población fue mayor. Un enfoque terapéutico transdisciplinario, favorecería la calidad de vida de los pacientes y el curso de la enfermedad.
Palabras clave:
Ansiedad
Depresión
Fibromialgia
Migraña
Síndrome de fatiga crónica
Trastornos del sueño
Article
These are the options to access the full texts of the publication Revista Colombiana de Reumatología (English Edition)
Subscriber
Debido al mantenimiento de nuestros sistemas informáticos, el día 2 de diciembre de 2020, pueden producirse problemas de acceso a las publicaciones y cursos de formación.
España 8AM -12AM (Islas Canarias, Portugal 7AM-11AM). Continente americano 1AM-7AM
Subscriber
If you already have your login data, please click here .
If you have forgotten your password you can you can recover it by clicking
here
and selecting the option "I have forgotten my password"
Comprar
Comprar acceso al artículo
Comprando el artículo el PDF del mismo podrá ser descargado
Precio 19,34 €
Comprar ahora
Contact
Phone for subscriptions and reporting of errors
From Monday to Friday from 9 a.m. to 6 p.m. (GMT + 1) except for the months of July and August which will be from 9 a.m. to 3 p.m.
Calls from Spain
932 415 960
Calls from outside Spain
+34 932 415 960
E-mail