Full Text
Dear Editor,
The Autoimmune Syndrome Induced by Adjuvants (ASIA) was suggested by Shoenfeld and Agmon-Levin back in 2011 and is triggered by – among other factors – the administration of substances used for esthetic purposes. These substances act as adjuvants with the potential of stimulating the immune system.1,2 The list of these substances is extensive, however the most frequently used are silicone, hyaluronic acid, methacrylate compounds, and various oils3; however, it is sometimes impossible to identify the substance used in these cosmetic procedures.4 The use of these substances has not only been associated with the syndrome, but also to post-vaccination phenomena, and the Gulf War Syndrome.1,5 All of the above conditions share similar characteristics with chronic fatigue syndrome and fibromyalgia, including generalized chronic pain associated with aberrant immune response signs and symptoms such as fever, arthralgia, myalgia, and autoantibody positivity, inter alia.
This is a case of a patient who developed ASIA signs with criteria for fibromyalgia following the administration of an oily substance for esthetic purposes; the partial removal of the substance resulted in the patient's clinical improvement.
This was a 45-year-old woman, Caucasian, housewife, with no family or personal history of diseases, or substance abuse, who 21 years earlier was injected 400ml of an oily substance (she could not identify) for cosmetic purposes on each breast, and 4 years later she began to experience pain and swelling in both breasts, with skin color changes. She underwent 3 sessions of liposuction with no clinical improvement. The patient experienced joint pains, generalized myalgia, asthenia, and skin color changes similar to livedo reticularis.
The patient was assessed by a rheumatologist who prescribed anti-inflammatory non-steroidal drugs, prednisone 10mg, methotrexate 10mg once a week, and amitriptyline 25mg daily, but no improvement was obtained.
The patient presented to our plastic surgery clinic in 2016 and was assessed by rheumatology for her generalized breast and joint pain, muscle weakness, dry mouth, need to use artificial tears because of eye irritation, sleep disorders, hemicrania continua, and short-term memory loss. The physical examination revealed the skin in the lower segment of both breasts with erythema, nodules and small vesicles that developed into suppurative ulcers with oily drainage (Fig. 1A). She experienced pain on palpation of all the proximal interphalangeal joints of the hands, carpal bones, elbows, knees and ankles, with no swollen joints, livedo reticularis in the abdomen and the inner aspect of the upper and lower extremities. The ophthalmological examination resulted in a positive Schirmer test. The studies conducted showed an erythrocyte sedimentation rate of 35mm/h, C-reactive protein of 2.1mg/L, rheumatoid factor, anti-citrullinated peptide antibodies (ACPA), negative anti-phospholipids, positive antinuclear antibodies 1:1.200, negative anti-DNA, positive anti-Ro/SSA and negative anti-LA/SSB, sublingual salivary gland biopsy without inflammatory process, breast secretion analysis with no bacterial growth and no malignant cells. The imaging studies of the breasts: ultrasound, mammogram (Fig. 1B) and nuclear magnetic resonance (Fig. 1C) showed evidence of nodules and cavities.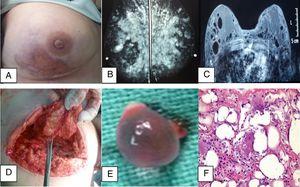 Fig. 1.
(A) Front view of the right breast. Note the atrophied skin and ulceration with exposure of the modeling agent. (B) Bilateral mammogram. (C) Nuclear magnetic resonance. (D and E) Transoperative images showing the pearls and pits developing in the breast tissue. (F) Hematoxylin–eosin stain.
(0.37MB).
When assessing the patient, the absence of articular inflammatory elements with negative anti-CCP test ruled out the diagnosis of rheumatoid arthritis; in contrast, the clinical presentation lead us to consider sicca syndrome, leading to the diagnosis of Sjögren syndrome according to the current classification criteria, based on a positive Schirmer test and positive anti-Ro/SSA.6
The patient met the criteria for fibromyalgia7; some of those criteria were shared with ASIA, particularly considering the exposure to an external substance acting as an adjuvant for the subsequent occurrence of clinical manifestations such as arthralgia, myalgia, fatigue, sleep disorders, memory loss, eye and mouth dryness, and the presence of autoantibodies.1
Considering that the patient failed to improve with the previous medical therapy, the decision was made to remove the substance administered, which is justified based on treatment failure8; partial bilateral mastectomy was performed and the pearls reported associated with the administration of these oily substances in the surgical procedure (Fig. 1D and E) were found. The histology confirmed the diagnosis of ASIA based on the foreign body giant cell granulomatous inflammatory reaction (Fig. 1E) that met the criteria for this condition according to Shoenfeld and Agmon-Levin, and also the objective criteria published by Alijotas-Reig.9
11 months after surgery the patient is free of any fibromyalgia symptoms and needs no medication; reconstructive surgery is pending.
The presence of ASIA-associated Sjögren's syndrome and fibromyalgia has also been recognized by other researchers, as well as other autoimmune conditions, such as the connective tissue undifferentiated disease, systemic lupus erythematous, multiple sclerosis, diabetes mellitus type I and systemic vasculitis, inter alia.10
Notwithstanding the reports published, the topic is controversial and there are some researchers that even question the existence of ASIA.11
Physicians most be aware of the potential expression of clinical manifestations of several entities such as systemic lupus erythematous, rheumatoid arthritis, mixed connective tissue disease, Sjögren's syndrome, fibromyalgia, which like in this particular case, are associated with a history of exposure to adjuvant modeling substances or implants, in order to avoid diagnostic errors or delays, that may result in health problems that could endanger the life of the patient, as reported in other studies.12 There is a need to be mindful of the fact that certain population groups may present with genetic characteristics prone to develop ASIA upon exposure to these substances; this condition must be managed and treated with a multidisciplinary approach.
Please cite this article as: Tamayo Carbón AM, Estévez del Toro MH, Alvarado Salas R, Chong López A. Síndrome autoinmune inflamatorio inducido por adyuvante después de la administración de un agente modelante con sintomatología de fibromialgia. Rev Colomb Reumatol. 2019;26:145–147.
Copyright © 2018. Asociación Colombiana de Reumatología