Article information
Abstract
Full Text
Bibliography
Download PDF
Statistics
Resumen
La realización temprana en el primer trimestre de la gestación de un test de cribado combinado de parto pretérmino y la instauración temprana de estrategias preventivas en los pacientes de alto riesgo pueden disminuir más eficazmente las tasas de parto pretérmino.
En este artículo de revisión, repasamos las distintas variables maternas, gestacionales, marcadores ecográficos, bioquímicos y los modelos predictivos publicados hasta la fecha para el cribado de parto pretérmino en el primer trimestre de la gestación.
Palabras clave:
Parto pretérmino
Cribado
Primer trimestre
Embarazo
Abstract
First-trimester combined screening for preterm delivery and the early initiation of preventive strategies in high-risk patients can effectively reduce preterm delivery rates.
In this article, we review the maternal and gestational variables, ultrasound markers, biochemical substances, and distinct predictive models published to date for screening of preterm birth in the first trimester.
Keywords:
Preterm delivery
Screening
First trimester
Pregnancy
Article
These are the options to access the full texts of the publication Progresos de Obstetricia y Ginecología
Subscribe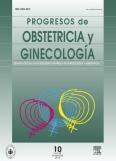 Subscribe to
Progresos de Obstetricia y Ginecología
Contact
Phone for subscriptions and reporting of errors
From Monday to Friday from 9 a.m. to 6 p.m. (GMT + 1) except for the months of July and August which will be from 9 a.m. to 3 p.m.
Calls from Spain
902 88 87 40
Calls from outside Spain
+34 932 418 800
E-mail