Article information
Abstract
Full Text
Bibliography
Download PDF
Statistics
Abstract
The goal of the Spanish Liver Transplantation Society (La Sociedad Española de Trasplante Hepático) is to promote and create consensus documents about current topics in liver transplantation with a multidisciplinary approach. To this end, on October 20, 2016, the 6th Consensus Document Meeting was held, with the participation of experts from the 24 authorized Spanish liver transplantation programs. This Edition discusses the following subjects, whose summary is offered below: 1) limits of simultaneous liver-kidney transplantation; 2) limits of elective liver re-transplantation; and 3) liver transplantation after resection and hepatocellular carcinoma with factors for a poor prognosis. The consensus conclusions for each of these topics is provided below.
Keywords:
Liver transplantation
Hepatocellular carcinoma
Liver-kidney transplantation
Liver re-transplantation
Resumen
La Sociedad Española de Trasplante Hepático tiene como objetivo la promoción y elaboración de documentos de consenso sobre temas de actualidad en trasplante hepático de abordaje multidisciplinario. Para ello, el 20 de octubre de 2016 se celebró la vi Reunión de consenso con participación de expertos de los 24 programas de trasplante hepático españoles autorizados. En esta edición se han abordado los siguientes temas, cuyo resumen ofrecemos a continuación: 1. Límites al trasplante simultáneo de hígado-riñón; 2. Límites del retrasplante hepático electivo; y 3. Trasplante hepático tras resección y hepatocarcinoma con factores pronósticos de gravedad. Se exponen a continuación las conclusiones consensuadas de cada uno de estos tópicos.
Palabras clave:
Trasplante hepático
Hepatocarcinoma
Trasplante hepatorrenal Retrasplante hepático
Article
These are the options to access the full texts of the publication Gastroenterología y Hepatología (English Edition)
Subscribe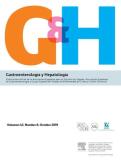 Subscribe to
Gastroenterología y Hepatología (English Edition)
Contact
Phone for subscriptions and reporting of errors
From Monday to Friday from 9 a.m. to 6 p.m. (GMT + 1) except for the months of July and August which will be from 9 a.m. to 3 p.m.
Calls from Spain
932 415 960
Calls from outside Spain
+34 932 415 960
E-mail