Article information
Abstract
Full Text
Bibliography
Download PDF
Statistics
Tables (3)
Table 1. Characteristics of published studies on educational strategies aimed at improving the quality of bowel preparation.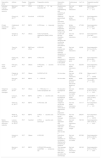 Abstract
Colonoscopy is the gold standard procedure for detecting neoplastic lesions of the colon and its efficiency is closely linked to the quality of the procedure. Adequate bowel preparation is a crucial factor in achieving the recommended quality indicators, but poor preparation has been reported in up to 30% of outpatients referred for colonoscopy. Consequently, over recent years, a number of studies have developed strategies to optimise bowel cleansing by improving adherence and tolerance to and the efficacy of the bowel preparation. Moreover, the identification of risk factors for inadequate bowel cleansing has led to tailored bowel preparation strategies being designed, with promising results. We aimed to review studies that assessed risk factors for inadequate bowel preparation and strategies to optimise bowel cleansing in patients at high risk of having poor preparation.
Keywords:
Bowel preparation
Quality in colonoscopy
Predictive factors for bowel cleansing
Resumen
La colonoscopia es el patrón oro para el diagnóstico de lesiones epiteliales colorrectales y su eficiencia está íntimamente relacionada con la calidad de la exploración. Lograr una adecuada limpieza colónica es un factor fundamental para alcanzar los estándares de calidad recomendados. Actualmente, hasta el 30% de los pacientes a los que se realiza una colonoscopia ambulatoria presentan una calidad deficiente. Por ello, en los últimos años numerosos estudios han diseñado estrategias para optimizar la limpieza colónica mejorando la adherencia y la tolerancia de la solución de limpieza colónica o la eficacia de esta. La identificación de factores predictores de una limpieza colónica inadecuada ha propiciado el desarrollo de estrategias de preparación individualizadas con resultados prometedores. En este artículo se revisan los estudios que evaluaron los factores asociados a una limpieza colónica deficiente, así como las estrategias diseñadas para optimizar la limpieza colónica en pacientes con elevada probabilidad de una limpieza colónica inadecuada.
Palabras clave:
Preparación colónica
Calidad en colonoscopia
Factores predictores de limpieza colónica
Article
These are the options to access the full texts of the publication Gastroenterología y Hepatología (English Edition)