Article information
Abstract
Full Text
Bibliography
Download PDF
Statistics
Tables (4)
Table 2. H. pylori status and tests results.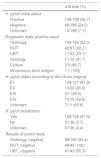 Table 3. Additional treatments used according to the Ann Arbor staging in the different 13 hospitals participating in the study.
Table 4. Different frequencies of the use of aggressive treatment chemotherapy, radiotherapy or surgery) in E1 Ann Arbor lesions according to each center.
Abstract
Introduction
Cure of Helicobacter pylori infection in patients with gastric lymphoma of mucosa-associated lymphoid tissue (MALT) leads to long-term clinical remission in the initial stages. As it is a rare disease, its management in clinical practice remains largely unknown and heterogeneity of care remains a concern.
The aim was to audit the management and evolution of a large series of low-grade gastric MALT lymphomas from thirteen Spanish hospitals.
Materials and methods
Multicentre retrospective study including data on the diagnosis and follow-up of patients with gastric low-grade MALT lymphoma from January 1998 to December 2013. Clinical, biological and pathological data were analyzed and survival curves were drawn.
Results
One-hundred and ninety-eight patients were included. Helicobacter pylori was present in 132 (69%) patients and 103 (82%) in tumors confined to the stomach (stage EI) and was eradicated in 92% of patients. Chemotherapy was given in 90 (45%) patients and 43 (33%) with stage EI. Marked heterogeneity in the use of diagnostic methods and chemotherapy was observed. Five-year overall survival was 86% (89% in EI). Survival was similar in EI patients receiving aggressive treatment and in those receiving only antibiotics (p=0.577).
Discussion
Gastric MALT lymphoma has an excellent prognosis. We observed, however, a marked heterogeneity in the use of diagnostic methods or chemotherapy in early-stage patients.
Keywords:
Lymphoma
Stomach neoplasms
Disease management
Follow-up studies
Mortality
Resumen
Introducción
La cura de la infección por Helicobacter pylori (H. pylori) en pacientes con linfoma gástrico de tejido linfoide asociado mucosas (mucosa-associated lymphoid tissue [MALT]) conduce a la remisión clínica a largo plazo en los estadios iniciales. Al tratarse de una enfermedad rara, su tratamiento en la práctica clínica en muchas ocasiones se desconoce y la heterogeneidad de la atención sigue siendo motivo de preocupación.
El objetivo es auditar el tratamiento y la evolución de una gran serie de linfomas gástricos MALT de bajo grado procedentes de 13 hospitales españoles.
Materiales y métodos
Estudio retrospectivo y multicéntrico que incluye datos sobre el diagnóstico y el seguimiento de pacientes con linfoma MALT gástrico de bajo grado desde enero de 1998 hasta diciembre del 2013. Se analizaron los datos clínicos, biológicos y patológicos, y se trazaron las curvas de supervivencia.
Resultados
Se incluyó a 198 pacientes. El H. pylori estaba presente en 132 (69%) de los pacientes y en 103 (82%) tumores confinados al estómago (estadio EI) y se erradicó en el 92% de los pacientes. Se administró quimioterapia a 90 (45%) de los pacientes y a 43 (33%) en estadio EI. Se observó una marcada heterogeneidad en el uso de los métodos de diagnóstico y de la quimioterapia. La supervivencia global a los 5 años fue del 86% (89% en estadio EI). La supervivencia fue similar en los pacientes en estadio EI que recibieron tratamiento agresivo y en los que recibieron solo antibióticos (p=0,577).
Discusión
El linfoma MALT gástrico presenta un pronóstico excelente. Sin embargo, se observó una marcada heterogeneidad en el uso de los métodos de diagnóstico o la quimioterapia en pacientes en estadio inicial.
Palabras clave:
Linfoma
Neoplasias malignas
Tratamiento de la enfermedad
Estudios de seguimiento
Mortalidad
Article
These are the options to access the full texts of the publication Gastroenterología y Hepatología (English Edition)