Article information
Abstract
Full Text
Bibliography
Download PDF
Statistics
Abstract
Anti-tumour necrosis factor agents (anti-TNF) drugs are commonly used in patients with inflammatory bowel disease (IBD) and have proven effective in both induction and maintenance therapy in luminal Crohn's disease and ulcerative colitis. Their efficacy has also been proven in fistulising perianal Crohn's disease. However, the evidence in other scenarios, such as stricturing, penetrating and non-fistulising perianal Crohn's disease, extraintestinal IBD manifestations and ileoanal reservoir complications, is not as robust. The aim of this review was to perform an analysis of the available literature and to determine the role of anti-TNF drugs in common clinical practice in patients affected by these complications.
Keywords:
Inflammatory bowel disease
Crohn's disease
Ulcerative colitis
Anti-TNF
Resumen
Los agentes anti-factor de necrosis tumoral (anti-TNF) son fármacos de uso común en los pacientes con enfermedad inflamatoria crónica intestinal (EICI) y han demostrado ser efectivos en inducción y mantenimiento en enfermedad de Crohn y colitis ulcerosa, así como en pacientes con afectación fistulizante perianal. Sin embargo, la evidencia relativa al uso de estos fármacos en otros escenarios dentro de EICI es menos sólida. Es el caso de la enfermedad de Crohn con afectación estenosante, penetrante o perianal no fistulizante, de las manifestaciones extraintestinales de la EICI y de las complicaciones del reservorio ileoanal. El objetivo de esta revisión fue realizar un análisis de la literatura disponible y determinar el papel de los anti-TNF en la práctica clínica en pacientes afectos por estas complicaciones.
Palabras clave:
Enfermedad inflamatoria intestinal
Enfermedad de Crohn
Colitis ulcerosa
Anti-TNF
Article
These are the options to access the full texts of the publication Gastroenterología y Hepatología (English Edition)
Subscribe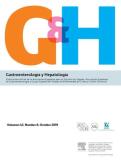 Subscribe to
Gastroenterología y Hepatología (English Edition)
Contact
Phone for subscriptions and reporting of errors
From Monday to Friday from 9 a.m. to 6 p.m. (GMT + 1) except for the months of July and August which will be from 9 a.m. to 3 p.m.
Calls from Spain
932 415 960
Calls from outside Spain
+34 932 415 960
E-mail