Article information
Abstract
Full Text
Bibliography
Download PDF
Statistics
Abstract
Objectives
To determine nurses' knowledge level regarding physical restraint use in intensive care units and its associated factors.
Method
A cross-sectional multicentre study was carried out in 12 critical care units of 8 hospitals in Spain (n=354 nurses). An 'ad-hoc' knowledge survey was developed, and their content was validated by experts. The survey obtained a test-retest stability of ICC=.71 (95% CI: .57–.81) in a previous pilot study. A final 8-item tool was designed. Sociodemographic and professional variables from the participants were collected; as well as structural and clinical variables from the units analysed. A descriptive and association analysis between variables was performed. A p-value<.05 was deemed statistically significant.
Results
Two hundred and fifty nurses answered the survey (70.62%). Mean age of the participants was 36.80 (SD 9.54) with 10.75 (SD 8.38) years of professional experience in critical care. Seventy-three point six percent had never received previous training about physical restraints. Knowledge mean value was 4.21 (SD 1.39) (range 0–8). Knowledge level was associated with the referral hospital (p<.001). Nurses with a higher knowledge level are more likely to work in units with informed consent sheets for physical restraint use (p<.001); flexible family visiting (p<.001); analgo-sedation protocol (p=.011), and units in which nurses had autonomy to manage analgo-sedation (p<.001). Individual sociodemographic and professional data was not associated with knowledge level.
Conclusions
Further training regarding physical restraint use is needed for critical care nurses. The work environment where nursing care is given has a great influence on nurses' knowledge level about this intervention.
Keywords:
Physical restraints
Knowledge
Nursing
Intensive care units
Resumen
Objetivos
Determinar el grado de conocimientos de las enfermeras sobre el uso de contenciones mecánicas en las unidades de críticos y los factores relacionados.
Método
Estudio multicéntrico, observacional, en 12 unidades de críticos de 8 hospitales en España (n=354 enfermeras). Se elaboró una encuesta ad-hoc de conocimientos cuyo contenido fue validado por expertos. La encuesta obtuvo una estabilidad test-retest de CCI=0,71 (IC 95%: 0,57-0,81) en un estudio piloto previo. El instrumento final quedó conformado por 8 ítems. Se recogieron datos sociodemográficos y profesionales de los participantes, así como variables estructurales y clínicas de las unidades a estudio. Se llevó a cabo un análisis descriptivo y de asociación entre variables. Se consideró estadísticamente significativo un valor de p<0,05.
Resultados
Respondieron 250 enfermeras (70,62%), con una edad media de 36,8 (DE 9,54) años y una media de 10,75 (DE 8,38) años de experiencia profesional en unidades de críticos. El 73,6% no había recibido formación previa sobre contenciones mecánicas. La media de conocimientos fue de 4,21 (DE 1,39) (rango 0-8). El grado de conocimientos se asoció al hospital de referencia (p<0,001). Las enfermeras con mayor grado de conocimientos es más probable que trabajen en unidades con consentimiento informado para el uso de contenciones mecánicas (p<0,001); visita familiar flexible (p<0,001); y que dispongan de protocolo de analgosedación (p=0,011), o que la enfermera tenga autonomía en el manejo de la analgosedación (p<0,001). Ningún dato sociodemográfico ni profesional individual se asoció al grado de conocimientos.
Conclusiones
Es necesaria una mayor formación de las enfermeras sobre el uso de contenciones mecánicas. El entorno de trabajo donde se desarrollan los cuidados tiene una gran influencia en el grado de conocimientos de las enfermeras sobre esta intervención.
Palabras clave:
Restricción física
Conocimientos
Enfermería
Unidades de cuidados intensivos
Article
These are the options to access the full texts of the publication Enfermería Intensiva (English Edition)
Subscribe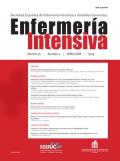 Subscribe to
Enfermería Intensiva (English Edition)
Contact
Phone for subscriptions and reporting of errors
From Monday to Friday from 9 a.m. to 6 p.m. (GMT + 1) except for the months of July and August which will be from 9 a.m. to 3 p.m.
Calls from Spain
932 415 960
Calls from outside Spain
+34 932 415 960
E-mail