Received 25 September 2018. Accepted 13 December 2018
Article information
Abstract
Full Text
Bibliography
Download PDF
Statistics
Abstract
Introduction
There is a growing increase in prosthetic joint infection (PJI) incidence due to cephalosporin-resistant bacteria, used in surgical prophylaxis. The replacement of these with glycopeptides has not been shown to improve the results, but they have been shown to improve with their combination.
Methods
Comparative study of combination of teicoplanin and cefazolin before arthroplasty surgery against cefazolin alone from a previous control group.
Results
During the control period, there were 16 PJIs from 585 surgeries, while in the intervention group there were 6 from 579 (incidence 2.7% vs. 1.03%, RR 0.4, p=0.04). In control group, 11 of the infections were caused by Gram-positive bacteria vs. 4 in the intervention group (1.8% vs. 0.7%, p=0.08).
Conclusions
The addition of teicoplanin to cefazolin in the prophylaxis of arthroplasty surgery was associated with a reduction in the incidence of PJI, thanks to a decrease in infections caused by Gram-positive bacteria.
Keywords:
Prosthesis-related infections
Antibiotic prophylaxis
Teicoplanin
Resumen
Introducción
Existe un creciente aumento de las infecciones de prótesis articular (IPA) por bacterias resistentes a las cefalosporinas utilizadas en la profilaxis quirúrgica. La sustitución de estas por glucopéptidos no ha demostrado mejorar los resultados pero sí su asociación.
Métodos
Estudio comparativo de la asociación de teicoplanina y cefazolina antes de la cirugía de artroplastia frente a cefazolina sola de un grupo control previo.
Resultados
En el periodo control hubo 16 IPA de 585 cirugías, mientras que en el grupo de intervención fueron 6 de 579 (incidencia 2,7% vs. 1,03%; RR 0,4, p=0,04). En el grupo control, 11 de las infecciones fueron causadas por bacterias grampositivas frente a 4 en el de intervención (1,8% vs. 0,7%, p=0,08).
Conclusiones
La adición de teicoplanina a cefazolina en la profilaxis de la cirugía de artroplastia se asoció a una reducción de la incidencia de IPA, a expensas de un descenso de las causadas por grampositivos.
Palabras clave:
Infecciones relacionadas con prótesis
Profilaxis antibiótica
Teicoplanina
Article
These are the options to access the full texts of the publication Enfermedades Infecciosas y Microbiología Clínica (English Edition)
Subscribe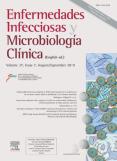 Subscribe to
Enfermedades Infecciosas y Microbiología Clínica (English Edition)
Contact
Phone for subscriptions and reporting of errors
From Monday to Friday from 9 a.m. to 6 p.m. (GMT + 1) except for the months of July and August which will be from 9 a.m. to 3 p.m.
Calls from Spain
932 415 960
Calls from outside Spain
+34 932 415 960
E-mail