Article information
Abstract
Full Text
Bibliography
Download PDF
Statistics
Abstract
Syphilis is an infectious disease caused by the spirochaete Treponema pallidum subsp. pallidum which is transmitted by sexual contact or vertical transmission during pregnancy. The incidence of syphilis has increased in the last years, mainly among men who have sex with men. Without treatment, the disease develops into different clinical stages, being able to present cardiovascular or irreversible neurological complications after a number of years. The disease is classified as early syphilis – primary, secondary and early latent syphilis (less than 12 months) – which is contagious, and as late syphilis – late latent and tertiary syphilis – which is rarely contagious. Diagnosis and management are often a challenge because of its diversity of manifestations and the difficulty of interpretation of serological tests. The treatment of syphilis is based on penicillin or doxycycline in allergic patients. Treatment failure because of resistance has been described with azithromycin. The follow up with a serological test is recommended in all patients with syphilis in order to ascertain cure after the treatment and to diagnose possible reinfections.
Resumen
La sífilis está causada por la espiroqueta Treponema pallidum subsp. Pallidum, que se transmite por vía sexual o vertical durante la gestación. Su incidencia se ha incrementado en los últimos años, especialmente entre los hombres que tienen sexo con hombres. Sin tratamiento, la infección progresa en distintas fases que terminan en complicaciones irreversibles neurológicas y cardiovasculares. Para su clasificación diferenciamos entre sífilis precoz (primaria, secundaria y latente de menos de un año), que es infecciosa, de la sífilis tardía (latente de más de un año y terciaria), en la que el paciente no es contagioso. El diagnóstico y el tratamiento no es sencillo debido a la gran variedad de manifestaciones clínicas y a la dificultad en la interpretación de las pruebas serológicas. El tratamiento de la sífilis se basa en la administración de penicilina o de doxiciclina en casos de alergia. Con azitromicina se han descrito fracasos terapéuticos y se han encontrado resistencias. Los pacientes que hayan sido diagnosticados y tratados deben de ser seguidos para evaluar la respuesta al tratamiento y diagnosticar posibles reinfecciones.
Article
These are the options to access the full texts of the publication Enfermedades Infecciosas y Microbiología Clínica (English Edition)
Subscribe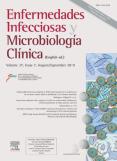 Subscribe to
Enfermedades Infecciosas y Microbiología Clínica (English Edition)
Contact
Phone for subscriptions and reporting of errors
From Monday to Friday from 9 a.m. to 6 p.m. (GMT + 1) except for the months of July and August which will be from 9 a.m. to 3 p.m.
Calls from Spain
932 415 960
Calls from outside Spain
+34 932 415 960
E-mail