Article information
Abstract
Full Text
Bibliography
Download PDF
Statistics
Abstract
Objective
In this review we try to update the new procedures applicable in the microbiological diagnosis of bacteriemia and fungemias.
Method
Review of scientific literature.
Results and conclusions
After defining the process and indicating its fundamental principles, the main biomarkers used in clinical practice are reviewed. Subsequently, the particularities of the pre-analytical phase (collection and transport of samples) are highlighted and the steps to follow for the microbiological identification by classical methods are detailed, based on the culture of the blood samples. In the following section, we review the diagnostic methods not culture based, including those that detect the presence of the genome of the microorganism and those based on the study of proteome by mass spectrometry. The last section describes the procedures more frequently used for the study of antibiotic susceptibility, both by phenotypic and genotypic methods.
Keywords:
Bacteraemia
Fungaemia
Microbiological diagnosis
Blood cultures
Resumen
Objetivo
En esta revisión se pretende actualizar los nuevos procedimientos aplicables en el diagnóstico microbiológico de las bacteriemias y fungemias.
Método
Revisión de la literatura científica.
Resultados y conclusiones
Tras definir el proceso e indicar sus principios fundamentales, se revisan los principales biomarcadores utilizados en la práctica clínica. Posteriormente, se resaltan las particularidades de la fase preanalítica (recogida y transporte de las muestras) y se detallan los pasos a seguir para la identificación microbiológica por métodos clásicos, basados en el cultivo de las muestras de sangre. En el siguiente apartado, se revisan los métodos diagnósticos no basados en el cultivo, incluyendo los que detectan la presencia del genoma del microorganismo y los basados en el estudio del proteoma mediante espectrometría de masas. En el último apartado se describen los procedimientos a seguir para el estudio de la sensibilidad antibiótica, tanto por métodos fenotípicos como genotípicos.
Palabras clave:
Bacteriemia
Fungemia
Diagnóstico microbiológico
Hemocultivos
Article
These are the options to access the full texts of the publication Enfermedades Infecciosas y Microbiología Clínica (English Edition)
Subscribe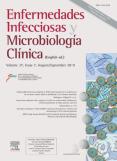 Subscribe to
Enfermedades Infecciosas y Microbiología Clínica (English Edition)
Contact
Phone for subscriptions and reporting of errors
From Monday to Friday from 9 a.m. to 6 p.m. (GMT + 1) except for the months of July and August which will be from 9 a.m. to 3 p.m.
Calls from Spain
932 415 960
Calls from outside Spain
+34 932 415 960
E-mail