Article information
Abstract
Full Text
Bibliography
Download PDF
Statistics
Abstract
Introduction
Spain, which has one of the largest migrant populations in Europe, has committed to eliminating the hepatitis C virus (HCV). The aim of this study was to estimate the prevalence of HCV among migrant groups in Spain, a country of 46 million people, with an estimated HCV-antibody prevalence of 1.7%.
Methods
Studies on HCV and migration in Spain were identified by systematically searching three databases from the first records to 30 November 2017, and consulting experts at the Ministry of Health and in the 17 Spanish autonomous communities. A meta-analysis was conducted to determine pooled HCV prevalence for the general migrant population. Prevalences were also calculated for high-risk migrant populations and populations who had undergone hospital screening, stratified by region of origin.
Results
Out of 243 studies identified, 26 met the eligibility criteria. The meta-analysis of the general migrant population found HCV antibody prevalence to be 1.6%. Migrants originating from European countries, including those at high or moderate risk for HCV, had the highest pooled prevalence (7.1%). In the general migrant population, prevalence was highest among sub-Saharan African migrants (3.1%) and lowest among Latin American migrants (0.2%).
Conclusion
Based on the limited available data, the prevalence among the general migrant population was found to be the same as the general Spanish population. Further research is needed to more accurately determine HCV prevalence for the overall migrant population and specific migrant subpopulations with a higher risk in the country as a whole and in each of Spain's 17 autonomous communities.
Keywords:
Hepatitis C
Migrant
Prevalence
Spain
Systematic review
Meta-analysis
Resumen
Introducción
España, con una de las mayores poblaciones de inmigrantes en Europa se ha comprometido en la tarea de eliminar el virus de la hepatitis C (VHC). El objetivo de este estudio fue estimar la prevalencia del VHC entre los grupos de migrantes en España, un país de 46 millones de personas, con una prevalencia estimada de anticuerpos contra el VHC del 1,7%.
Métodos
Se identificaron los estudios sobre el VHC y la migración en España mediante la búsqueda sistemática de 3 bases de datos desde los primeros registros hasta el 30 de noviembre de 2017. Se consultaron expertos del Ministerio de Salud y de las 17 comunidades autónomas españolas. Se realizó un metaanálisis para determinar la prevalencia combinada del VHC para la población migrante general. También se calcularon las prevalencias para poblaciones migrantes de alto riesgo, y para aquellas poblaciones con cribado realizado a nivel hospitalario, estratificadas por región de origen.
Resultados
De 243 estudios identificados, 26 cumplieron con los criterios de elegibilidad. El metaanálisis de la población migrante general encontró que la prevalencia de anticuerpos contra el VHC era del 1,6%. Los migrantes provenientes de países europeos, incluidos aquellos con alto o mediano riesgo del VHC, tuvieron la mayor prevalencia combinada (7,1%). En la población migrante general, la prevalencia fue más alta entre los migrantes del África subsahariana (3,1%) y más baja entre los migrantes de América Latina (0,2%).
Conclusión
En función de los datos disponibles que son limitados, el estudio muestra que la prevalencia entre la población general migrante en España es la misma que la de la población general española. Se necesitan más estudios para determinar con mayor precisión la prevalencia del VHC en la población general de migrantes y las subpoblaciones de población inmigrante con mayor riesgo específicas en el país en su conjunto y en las 17 comunidades autónomas de España.
Palabras clave:
Hepatitis C
Migrante
Prevalencia
España
Revisión sistemática
Metaanálisis
Article
These are the options to access the full texts of the publication Enfermedades Infecciosas y Microbiología Clínica (English Edition)
Subscribe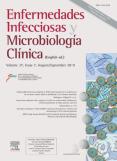 Subscribe to
Enfermedades Infecciosas y Microbiología Clínica (English Edition)
Contact
Phone for subscriptions and reporting of errors
From Monday to Friday from 9 a.m. to 6 p.m. (GMT + 1) except for the months of July and August which will be from 9 a.m. to 3 p.m.
Calls from Spain
932 415 960
Calls from outside Spain
+34 932 415 960
E-mail