Article information
Abstract
Full Text
Bibliography
Download PDF
Statistics
Abstract
Objective
Data of hepatitis C treatment with direct-acting antivirals (DAAs) in HIV infected patients are limited to a few number of antiretroviral therapies (ART). The aim of this study was to assess the effectiveness and safety of non-conventional ART as monotherapy or dual therapy (MDT) when combined with DAA.
Methods
Retrospective review of HIV/HCV-coinfected patients treated with DAAs during one year in 3 centers. Sustained virologic response 12 weeks after therapy (SVR) and maintenance of HIV viral suppression were compared between patients receiving triple ART (TT) or MDT.
Results
Overall 485 patients were included (359 receiving TT and 126 MDT). HCV SVR was 93.4% (95%CI, 90.8% to 95.3%) in the intention-to-treat analysis without differences between groups: 92.8% on TT vs 95.2% on MDT (p=0.3). HCV virological failure was associated with lower CD4+cell count at baseline (for every 100-cell/μl increment: OR, 0.8; 95%CI, 0.7-0.9; p=0.01) and with liver stiffness (for every 10-unit increment: OR, 1.5; 95%CI 1.2-1.8; p<0.01). HIV-RNA during HCV treatment or 12 weeks after was detectable in 23 patients on TT (6.6%) and 9 (7.2%) patients on MDT (p=0.8). The median (IQR) change in CD4+cell count was not significantly different between the groups: 15 (–55 to 115) in TT vs –12 (–68 to 133) cells/μl in MDT (p=0.8).
Conclusion
DAAs obtain high rates of SVR among HIV/HCV-coinfected patients independently of whether TT or non-conventional ART is used. Suppression of HIV was maintained in both groups.
Keywords:
HIV
HEPATITIS C
Direct acting antivirals
Monotherapy
Dual therapy
Resumen
Objetivo
Los datos sobre el tratamiento de la hepatitis C con antivirales de acción directa (AAD) en los pacientes infectados por VIH se limitan a un escaso número de terapias antirretrovirales (TARV). El objetivo de este estudio fue valorar la efectividad y seguridad de las TARV no convencionales, como monoterapia y terapia dual (MDT), al combinarse con AAD.
Métodos
Revisión retrospectiva de pacientes co-infectados por VIH/VHC, tratados con AAD durante un año en 3 centros. Se comparó la respuesta virológica sostenida (RVS) a las 12 semanas de la terapia, y el mantenimiento de la supresión viral del VIH, entre los pacientes que recibieron triple TARV o MDT.
Resultados
Se incluyó a un total de 485 pacientes (359 que recibieron triple TARV y 126 que recibieron MDT). La RVS de VHC fue del 93,4% (IC 95%: 90,8-95,3%) en el análisis por intención de tratar, sin diferencias entre grupos: 92,8% en el grupo triple TARV vs. 95,2% en el grupo MDT (p=0,3). El fracaso virológico de VHC se asoció a un menor recuento basal de células CD4+ (para cada incremento de 100células/μl: OR: 0,8; IC 95%: 0,7-0,9; p=0,01) y a la rigidez hepática (para cada incremento de 10 unidades: OR: 1,5; IC 95%: 1,2-1,8; p<0,01). El ARN-VIH durante el tratamiento de VHC, o transcurridas 12 semanas, fue detectable en 23 pacientes en el grupo triple TARV (6,6%) y 9 (7,2%) pacientes en el grupo MDT (p=0,8). El cambio medio (RIC) en el recuento de células CD4+ no fue significativamente diferente entre ambos grupos: 15 (de –55-115) en el grupo triple TARV vs. –12 (de –68-133) células/μl en el grupo MDT (p=0,8).
Conclusión
Los AAD obtienen tasas altas de RVS entre los pacientes co-infectados de VIH/VHC, independientemente de si se utiliza triple TARV o TARV no convencional. La supresión de VIH se mantuvo en ambos grupos.
Palabras clave:
VIH
Hepatitis C
Antivirales de acción directa
Monoterapia
Terapia dual
Article
These are the options to access the full texts of the publication Enfermedades Infecciosas y Microbiología Clínica (English Edition)
Subscribe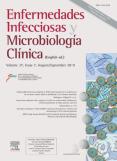 Subscribe to
Enfermedades Infecciosas y Microbiología Clínica (English Edition)
Contact
Phone for subscriptions and reporting of errors
From Monday to Friday from 9 a.m. to 6 p.m. (GMT + 1) except for the months of July and August which will be from 9 a.m. to 3 p.m.
Calls from Spain
932 415 960
Calls from outside Spain
+34 932 415 960
E-mail