Article information
Abstract
Full Text
Bibliography
Statistics
Resumen
La mastocitosis es una enfermedad poco frecuente, caracterizada por la proliferación de mastocitos. Los síntomas aparecen tras la exposición a factores desencadenantes, que generan una liberación de mediadores inflamatorios, pudiendo dar lugar a reacciones alérgicas e incluso a reacciones anafilácticas. Existen dos formas de presentación, la cutánea y la sistémica. Su relación con la gestación es poco conocida y hace plantearse aspectos sobre la seguridad tanto materna como fetal. Durante la gestación, esta entidad puede mejorar, empeorar o mantenerse estable y se ha relacionado con la amenaza de parto pretérmino, mientras que durante el parto es esencial el control del dolor y evitar aquellos fármacos que puedan desencadenar un brote. Además, los cambios hormonales acontecidos durante la gestación, parto y puerperio pueden favorecer la aparición de reacciones anafilácticas. Presentamos el caso de una gestante de 34 semanas de amenorrea, afecta de mastocitosis cutánea, que ingresó en nuestro servicio por rotura prematura de membranas, con lo que tuvimos que plantearnos cuál era el protocolo de actuación más adecuado a la patología que presentaba la paciente.
Palabras clave:
Mastocitosis
Mastocitosis cutánea
Gestación
Abstract
Mastocytosis is an uncommon disease characterized by the proliferation of mast cells. Symptoms appear after exposure to triggering factors resulting in mast cell mediator release, which can lead to anaphylactic reactions. There are two forms of presentation, cutaneous and systemic mastocytosis. There is limited information on the impact of this disorder on pregnancy and questions may arise about maternal and foetal safety. During pregnancy, this disease can improve, worsen, or remain stable and even be associated with preterm delivery. During labour pain control is important and drugs that can trigger an episode should be avoided. Furthermore, the hormonal changes that occur during pregnancy, childbirth and puerperium can lead to anaphylactic reactions. We present a pregnant woman at 34 weeks of amenorrhoea, affected by cutaneous mastocytosis, admitted in our hospital due to premature rupture of membranes. We had to consider the most appropriate protocol for our patient's pathology.
Keywords:
Mactocytosis
Cutaneous mastocytosis
Pregnancy
Article
These are the options to access the full texts of the publication Clínica e Investigación en Ginecología y Obstetricia
Subscribe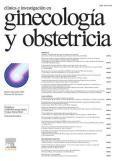 Subscribe to
Clínica e Investigación en Ginecología y Obstetricia
Contact
Phone for subscriptions and reporting of errors
From Monday to Friday from 9 a.m. to 6 p.m. (GMT + 1) except for the months of July and August which will be from 9 a.m. to 3 p.m.
Calls from Spain
932 415 960
Calls from outside Spain
+34 932 415 960
E-mail