Received 16 January 2019. Accepted 29 March 2019
Article information
Abstract
Full Text
Bibliography
Download PDF
Statistics
Abstract
We report the case of a 13-year-old patient who complains of an acute superior visual field scotoma in the last 48h. Best corrected visual acuity (MAVC) was 20/20 in both eyes. The right eye fundus examination revealed torsion of a prepapillary loop in the inferior branch of the retinal artery, associated with a arterial vascular attenuation and whitenning of the inferior retina that involved both nasal and temporal branches but spared the foveal region. During the follow-up the vascular loop dissapeared and only glial tissue was seen in front of the optic nerve head. MAVC remained 20/20 in both eyes.
This report shows the evolution of the vascular loop after an occlusion. The absence of blood flow produces a collapse of the arterial walls, in time the vascular loop is replaced by glial tissue.
Keywords:
Arterial occlusion
Prepapillary vascular loop
Retinal vascular occlusion
Resumen
Paciente de 13 años de edad que presenta un escotoma del campo visual superior de 48 horas de evolución. Mejor agudeza visual corregida de 20/20 en ambos ojos. La exploración del fondo de ojo derecho reveló un asa vascular prepapilar torsionada asociada a un área de blanqueamiento retiniano y atenuación vascular tanto en el sector nasal como temporal, la cual no afectaba fóvea. Durante el seguimiento el asa vascular desaparece y es reemplazada por tejido glial sobre el disco óptico. La mejor agudeza visual corregida permaneció en 20/20.
Este caso muestra el comportamiento del asa vascular posterior a la oclusión de la misma. La ausencia de flujo sanguíneo produce un colapso de las paredes arteriales, que con el tiempo llevan a la formación de tejido glial.
Palabras clave:
Asa vascular prepapilar
Oclusión arterial
Oclusión vascular retiniana
Article
These are the options to access the full texts of the publication Archivos de la Sociedad Española de Oftalmología (English Edition)
Subscribe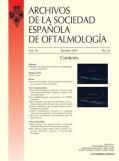 Subscribe to
Archivos de la Sociedad Española de Oftalmología (English Edition)
Contact
Phone for subscriptions and reporting of errors
From Monday to Friday from 9 a.m. to 6 p.m. (GMT + 1) except for the months of July and August which will be from 9 a.m. to 3 p.m.
Calls from Spain
932 415 960
Calls from outside Spain
+34 932 415 960
E-mail