Article information
Abstract
Full Text
Bibliography
Download PDF
Statistics
oncology and infectious diseases.A general review of advances in the treatment of Primary Immunodeficiencies (PID) has been performed. Treatment with immunoglobulins is indicated in cases of humoral immunodeficiencies and in selected cases of combined immunodeficiencies. The use of intramuscular immunoglobulins in the treatment of PID was abandoned after obtaining the intravenous immunoglobulins, since these are much more effective and have fewer adverse effects. Now subcutaneous immunoglobulins are also available. Immunoglobulins help to keep the patients free of symptoms and infections as these substances are able to neutralise infectious agents, modulate and promote the immune response and favour phagocytosis. Adverse effects have been reported in 5-15 % of patients receiving IVIg, and patients with deficiencies of subclasses of IgG with IgA deficiency and/or anti-IgA antibodies are at risk of severe reactions. No severe adverse effects of subcutaneous immuneglobulins have been reported and the medication can be self-administered. The efficacy and safety of IVIg and SCIg are similar and SCIg administered at home is associated with better quality of life. Stem Cell Transplantation (SCT) in Primary Immunodeficiencies is aimed at restoring the number and/or function of lymphocytes or phagocytes. Matched, related or unrelated donors, or related haploidentical donors are selected. HLA class II mismatched unrelated donors are avoided owing to the risk of severe graft versus host disease (GVHD). Stem cells are obtained from bone marrow, cord blood or peripheral blood. Prophylactic immunossupression (as well as donor T lymphocyte depletion in haploidentical and unrelated donors) is performed to avoid or minimize GVHD. Less toxic "reduced intensity" protocols now exist for pre-transplantation conditioning, indicated to avoid graft rejection if there is residual T-lymphocyte immunity in the host. In the majority of Severe Combined Immunodeficiencies (SCID), SCT results in T lymphocytes graft and the antibody immunodeficiency persists in many cases. The results are better the earlier it is performed, with the absence of previous infections, and with the degree of matching. The patient must be maintained in a laminar flow room with broad anti-infectious prophylaxis and with the intravenous administration of gammaglobulin for a variable period. Many other complications can be expected. Gene therapy. Patients with PID are ideal candidates, as they are monogenic, the haematopoietic cells are easily obtained and virus replication is easy within them. Vectors (viruses) "infect" the stem cells of the patient's bone marrow, producing the transfection of the wild (healthy) gene in these cells. Encouraging results have been achieved in X-linked SCID as there are a number of patients who are considered "cured", although neoplastic processes have occurred due to the activation of proto-oncogenes close to the point of insertion of the external gene, using retroviruses as vectors; there are now trials with adenovirus, physical methods (direct injection...) and chemical methods (viral modification, artificial viruses...). Gene therapy has also been performed in patients with Chronic Granulomatous Disease and trials will improve in the future with changes in protocols used in
Keywords:
Primary immunodeficiency
Severe combined immunodeficiency
Gammaglobulin therapy
Stem cell transplantation
Gene therapy
Se hace una revisión general de los avances en el tratamiento de las Inmunodeficiencias Primaria (IDP). La gammaglobulina está indicada en los casos de inmunodeficiencia humoral grave y en casos seleccionados de deficiencias parciales. La vía intramuscular en el tratamiento de IDP se abandonó tras la obtención de la formulación intravenosa (IgIV), mucho más eficaz y con menos efectos adversos. Actualmente también hay inmunoglobulina subcutánea disponible. La inmunoglobulina contribuye a mantener al paciente libre de síntomas e infecciones mediante la neutralización de virus, modulación y potenciación de la respuesta inmune y favoreciendo la fagocitosis. Se han comunicado efectos adversos en 5-15% de los pacientes que reciben IgIV, los pacientes con déficit de subclases de IgG con déficit de IgA y/o anticuerpos anti-IgA tienen más riesgo de reacciones graves. El Trasplante de Progenitores Hematopoyéticos (TPH) en IDP se dirige a restaurar el número y/o función de los linfocitos o fagocitos. Se seleccionan donantes idénticos familiares o no familiares, o haploidénticos familiares. Se evitan donantes no relacionados no compatibles en HLA de clase II por el riesgo de enfermedad injerto contra huésped grave (EICH). Los progenitores hematopoyéticos se obtienen de la médula ósea, sangre de cordón o sangre periférica. La inmunosupresión profiláctica (así como depleción de linfocitos T del donante en los trasplantes haploidénticos y no familiares) se emplea para evitar o minimizar la EICH. Actualmente existen protocolos de acondicionamiento pretrasplante de ¿intensidad reducida¿ menos tóxicos, indicados para evitar el rechazo del injerto cuando queda inmunidad residual de linfocitos T en el huésped. En la mayoría de Inmunodeficiencias Combinadas Graves (IDCG) el TPH proporciona el injerto de linfocitos T y persiste la inmunodeficiencia de anticuerpos en muchos casos. Los resultados son mejores cuanto antes se practique el trasplante, en ausencia de infecciones previas y con el grado de compatibilidad. Se debe mantener al paciente en cámara de flujo laminar, con profilaxis anti-infecciosa de amplio espectro y con gammaglobulina intravenosa durante un periodo variable de tiempo. Se han descrito muchas otras complicaciones. Las IDP son candidatas ideales para terapia génica (son monogénicas, las células hematopoyéticas se obtienen con facilidad y la replicación viral es fácil dentro de las mismas). Los vectores (virus) ¿infectan¿ las células progenitoras de la médula del paciente, originando la transfección del gen ¿salvaje¿ (sano) en las mismas. Se han conseguido resultados esperanzadores en IDCG ligada a X, y hay varios pacientes que se pueden considerar ¿curados¿, aunque han aparecido algunos procesos neoplásicos, por la activación de protooncogenes cercanos al punto de inserción del gen externo, siendo retrovirus los vectores; actualmente hay ensayos con adenovirus, métodos físicos (inyección directa¿) y métodos químicos (modificación viral, virus artificiales¿). También se ha realizado terapia génica en pacientes con Enfermedad Granulomatosa Crónica. Probablemente en el futuro continúen los ensayos de terapia génica en tumores (bloqueando oncogenes activados o reemplazando genes supresores de tumor inactivados), enfermedades infecciosas (supresión de genes virales en VIH)¿
Article
These are the options to access the full texts of the publication Allergologia et Immunopathologia
Subscribe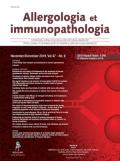 Subscribe to
Allergologia et Immunopathologia
Contact
Phone for subscriptions and reporting of errors
From Monday to Friday from 9 a.m. to 6 p.m. (GMT + 1) except for the months of July and August which will be from 9 a.m. to 3 p.m.
Calls from Spain
932 415 960
Calls from outside Spain
+34 932 415 960
E-mail