Article information
Abstract
Full Text
Bibliography
Download PDF
Statistics
Actually, food allergy is an emerging pathology; and egg allergy is the most frequent in childhood. The recommendations for measles, mumps and rubella (MMR) and influenza vaccination are increasing each year. This implementation increases the exposure of patients with egg allergy to such vaccines. In Spain, since 2004 the only available vaccine for MMR is grown in cultures of fibroblast from chick embryos; previously, patients with egg allergy were vaccinated with an alternative vaccine cultivated in diploid human cells which is no longer commercialized. Influenza vaccines grow in chick egg and the final product contains egg proteins (large variation in egg protein content has been reported). As controversy exist, the Food Allergy Committee of Spanish Society of Clinical Immunology and Pediatric Allergy decided to report some recommendations for the safe administration of MMR and influenza vaccines in patients with egg allergy. In summary, MMR vaccine is safe for children with egg allergy, only in patients with severe anaphylactic reaction after egg ingestion is recommended the administration in his reference hospital. Influenza vaccine is contraindicated in patients with severe anaphylactic reaction after egg ingestion. The rest can receive influenza vaccine in a 2-dose protocol with a vaccine that contains no more than 1.2 mcg of egg protein for mL.
Keywords:
egg allergy, childhood, MMR vaccination, influenza vaccination
En la actualidad, la alergia alimentaria constituye una patología emergente; siendo la alergia al huevo la más frecuente en la infancia. Las recomendaciones para la vacunación de sarampión, parotiditis y rubéola (vacuna triple vírica), así como para la vacuna antigripal, aumentan cada año. El cumplimiento de estas recomendaciones aumenta la exposición de pacientes alérgicos al huevo a dichas vacunas. En España, desde el año 2004 solo se dispone de vacuna triple vírica cultivada en fibroblastos de embrión de pollo; anteriormente, los pacientes alérgicos al huevo se inmunizaban con una vacuna alternativa cultivada en células diploides humanas que no se comercializa actualmente. La vacuna antigripal se cultiva en huevos de gallina y el producto final contiene proteína de huevo (la cantidad en proteína de huevo es muy variable). Dada la existente controversia, el Comité de Alergia Alimentaria de la Sociedad Española de Inmunología Clínica y Alergia Pediátrica ha decidido establecer una serie de recomendaciones para la administración segura de la vacuna triple vírica y la vacuna antigripal en pacientes alérgicos al huevo. En resumen, la vacuna triple vírica es segura para los niños alérgicos al huevo, sólo en los pacientes con reacción anafiláctica grave tras la ingesta de huevo se recomienda su administración en su hospital de referencia. La vacuna antigripal está contraindicada en pacientes con reacción anafiláctica grave tras la ingesta de huevo. El resto pueden vacunarse con una administración fraccionada en 2 dosis y con una vacuna que contenga igual o menos de 1.2 mcg de proteína de huevo por ml
Article
These are the options to access the full texts of the publication Allergologia et Immunopathologia
Subscribe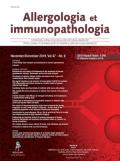 Subscribe to
Allergologia et Immunopathologia
Contact
Phone for subscriptions and reporting of errors
From Monday to Friday from 9 a.m. to 6 p.m. (GMT + 1) except for the months of July and August which will be from 9 a.m. to 3 p.m.
Calls from Spain
932 415 960
Calls from outside Spain
+34 932 415 960
E-mail