Article information
Abstract
Full Text
Bibliography
Download PDF
Statistics
Abstract
Over the past three decades, the number of obese people has risen steadily. The chronic low-grade inflammatory state and the non-specific activation of the immune system have contributed greatly to the development of obesity-related immunology. Food allergy as a kind of inflammatory disease with abnormal immune response may be associated with obesity. This review begins with the pro-inflammatory immunological effects of adipose tissue in obesity, and explains the possible effects of obesity on food allergy. In short, obesity not only directly causes imbalance of allergic-related immune cells in adipose tissue, but also indirectly causes this consequence through affecting expression of adipocytokines and peroxisome proliferator-activated receptor gamma (PPARγ) in adipose tissue. As a result, circulating levels of pro-inflammatory factors which are partly derived from adipose tissue increase, which might cause intestinal barrier injury. Therefore, obesity may increase the risk of food allergy.
Keywords:
Obesity
Pro-inflammatory
Immunological effects
Adipose tissue
Food allergy
Abbreviations:
PPARγ
Treg cells
IgE
BMI
Breg cells
iNKT cells
TNF-α
IL-6
NF-κB
Th1
Th2
PAR-2
ERK1/2
IL-12
MHC
IL-10
CLA
CLNA
STAT
JAK
iNOS
Article
These are the options to access the full texts of the publication Allergologia et Immunopathologia
Subscribe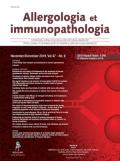 Subscribe to
Allergologia et Immunopathologia
Contact
Phone for subscriptions and reporting of errors
From Monday to Friday from 9 a.m. to 6 p.m. (GMT + 1) except for the months of July and August which will be from 9 a.m. to 3 p.m.
Calls from Spain
932 415 960
Calls from outside Spain
+34 932 415 960
E-mail