Article information
Abstract
Full Text
Bibliography
Download PDF
Statistics
Tables (5)
Table 2. Patterns of current peanut intake.
Table 3. Frequency of symptoms related to peanut allergy.
Table 4. Factors associated to peanut allergy.
Table 5. Multivariate model of factors associated to peanut allergy.
Abstract
Background
In our country, the prevalence and the factors associated to peanut allergy are unknown, a health problem that has been emerging worldwide.
Objective
To establish the prevalence and the factors that are associated to peanut allergy amongst school children.
Methods
This is a population-based cross-sectional study. We included 756 children aged 6–7 years. The children's parents were questioned about their peanut intake habits. A structured questionnaire was applied, it included questions regarding peanut intake; family and personal history of asthma; rhinitis; and atopic dermatitis. Allergic reactions to peanuts were registered as: probable, convincing and systematic. The statistical analyses included logistical regression models to look for associated factors.
Results
Males were 356/756 (47.1%). Peanut allergy prevalence: probable reaction: 14/756 (1.8%), convincing reaction: 8/756 (1.1%) and systemic reaction: 3/756 (0.4%). Through multivariate analysis, the presence of symptoms of allergic rhinitis (OR=4.2 95% CI 1.3–13.2) and atopic dermatitis (OR=5.2; 95% CI 1.4–19.5) during the previous year, showed significant association to probable peanut reaction. The former year, the presence of atopic dermatitis was the only variable that was substantially associated to a convincing reaction (OR=7.5; 95% CI 1.4–38.4) and to a systematic reaction (OR=45.1; 95% CI 4.0–510.0), respectively.
Conclusions
The reported prevalence of peanut allergy was consistent with that found in previous studies; symptoms of allergic rhinitis and atopic dermatitis were identified as associated factors to peanut allergy.
Keywords:
Peanut allergy
Prevalence
Children
Food allergy
Epidemiology
Article
These are the options to access the full texts of the publication Allergologia et Immunopathologia
Subscribe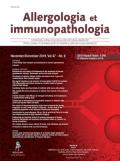 Subscribe to
Allergologia et Immunopathologia
Contact
Phone for subscriptions and reporting of errors
From Monday to Friday from 9 a.m. to 6 p.m. (GMT + 1) except for the months of July and August which will be from 9 a.m. to 3 p.m.
Calls from Spain
932 415 960
Calls from outside Spain
+34 932 415 960
E-mail