Article information
Abstract
Full Text
Bibliography
Download PDF
Statistics
Background: The use of opioids as analgesics is becoming increasingly widespread, which may have repercussions in patients with urticaria or asthma, as these agents frequently cause adverse reactions. Material and methods: We present three patients who developed allergic reactions after receiving codeine: two patients who developed acute urticaria, and a third asthmatic patient receiving specific immunotherapy who developed bronchospasm. Skin prick-testing (SPT) and intradermal reaction (IDR) tests with various opioids were performed, followed by controlled oral challenge. Prick tests and IDR were also carried out in 20 controls. Results: Similar SPT and IDR results were recorded in the three patients and in the controls. In the case of controlled oral challenge with codeine, patient 1 suffered bronchospasm, while patient 2 developed generalized urticaria. The test was not performed in the third patient. All of the patients tolerated tramadol 50 mg without problems. We advised the use of tramadol as analgesic and fentanyl or remifentanil as anesthetics. Discussion: In these types of manifestation, the pharmacological properties of the opioids used are highly important, particularly as regards their histamine-releasing potential. Codeine, morphine and pethidine present the greatest histamine-releasing capacity, while tramadol, fentanyl and remifentanil do not release histamine and their use is thus recommended in pulmonary disease requiring opioid administration. Cutaneous symptoms are more frequently caused by opioids than by respiratory symptoms, since these drugs act on the M
TC
mast cell population, which is more prevalent in the skin than in the lungs. Some of this action is inhibited by naloxone. Conclusions: In most patients, these reactions are not IgE-mediated. Consequently, SPT and IDR are of little diagnostic value, and controlled oral challenging with the suspect drug or with one of the non-histamine releasing agents should be used. The patch test is useful in occupational contact dermatitis.
Keywords:
Opioids
Codeine
Asthma
Urticaria
Introducción: Como fármacos analgésicos, cada vez está más extendido el uso de opiáceos y éstos pueden tener repercusiones sobre pacientes con urticaria o asma. La mayoría de las veces la causa es un efecto secundario. Material y Métodos: Presentamos dos pacientes que han tenido una urticaria tras la toma de codeína y otra paciente asmática que está recibiendo inmunoterapia y tiene crisis de broncoespasmo tras la toma de éste fármaco. Se realizan
prick-test
e IDR con varios opiáceos, y tras esto se realiza exposición oral controlada. También se realizan
pricks
e IDR a 20 controles. Resultados: En los tres casos y en los controles se obtienen resultados similares de los
pricks
y de las IDR. En la exposición oral controlada con codeína, la paciente 1 sufre un broncoespasmo, la 2 una urticaria generalizada y la 3 no se realiza. Las tres toleran tramadol 50mg sin problemas. Se recomienda el uso de tramadol como analgésico y fentanilo o remifentanilo como anestésicos. Discusión: En este tipo de cuadros las propiedades farmacológicas de los opiáceos son muy importantes, puesto que van a venir marcados por la potencia de liberación de histamina. La codeína, la morfina y la petidina, son los mayores liberadores y por el contrario, el tramadol, el fentanilo y el remifentanilo no lo son y están recomendados en patología pulmonar que necesiten opiáceos. Los opiáceos suelen producir en mayor número de ocasiones cuadros cutáneos por que actúan sobre todo sobre los MTC que son más numerosos en la piel que en el pulmón. La Naloxona inhibe en parte ésta acción. Conclusiones: La mayoría de reacciones de este tipo no son IgE mediadas, por lo que los
pricks
e IDR no tienen ningún valor, y se debe de recurrir a la exposición controlada con el fármaco implicado o con uno de los no liberadores de histamina. Las pruebas del parche si que tienen utilidad en las dermatitis de contacto ocupacionales.
Article
These are the options to access the full texts of the publication Allergologia et Immunopathologia
Subscribe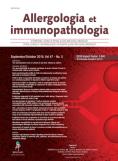 Subscribe to
Allergologia et Immunopathologia
Contact
Phone for subscriptions and reporting of errors
From Monday to Friday from 9 a.m. to 6 p.m. (GMT + 1) except for the months of July and August which will be from 9 a.m. to 3 p.m.
Calls from Spain
932 415 960
Calls from outside Spain
+34 932 415 960
E-mail