Article information
Abstract
Full Text
Bibliography
Download PDF
Statistics
Schnitzler's syndrome is an unusual clinical association of chronic urticaria, intermittent fever and monoclonal immunoglobulin M (IgM) gammopathy. The pathogenesis of the urticaria is unclear and treatment is problematic. We describe the case of a 61-year-old woman with a long history of chronic urticaria with severe pruritus, spiking fever and malaise. The IgM-kappa monoclonal component was detected in the patient's serum 4 years after symptom onset. After ineffective treatment with antihistamines and systemic corticosteroids, oral cyclosporine resulted in complete remission of the fever and malaise, which has persisted after an 18-month follow-up. Partial but maintained remission of the urticaria was also observed, allowing corticosteroid doses to be decreased.
Keywords:
Schnitzler's syndrome, chronic urticaria, cyclosporine, paraprotein
La alergia a la acelga es muy rara. Hasta este momento ha habido solamente informes sobre el asma inducido por el vapor de la acelga cocinada. Presentamos un estudio de dos pacientes con rinitis alérgica y positividad al
prick test
por Parientaria y acelga solamente. En la hipótesis de una reactividad cruzada entre el polen de Parietaria y la acelga, realizamos algunos análisis del laboratorio que demostraron IgE acelga -específica en sueros de los dos pacientes y una reactividad cruzada posible entre Parietaria y la acelga en un paciente.
Article
These are the options to access the full texts of the publication Allergologia et Immunopathologia
Subscribe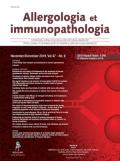 Subscribe to
Allergologia et Immunopathologia
Contact
Phone for subscriptions and reporting of errors
From Monday to Friday from 9 a.m. to 6 p.m. (GMT + 1) except for the months of July and August which will be from 9 a.m. to 3 p.m.
Calls from Spain
932 415 960
Calls from outside Spain
+34 932 415 960
E-mail