Article information
Abstract
Full Text
Bibliography
Download PDF
Statistics
Tables (5)
Table 2. Positivity to specific allergens in component-resolved diagnosis.
Table 3. Positive skin prick tests.
Table 4. Positive allergen-specific IgE.
Table 5. Sensitivity and specificity of diagnostic methods.
Abstract
Background
There has been an increase in the prevalence of hypersensitivity to Anisakis simplex. There are fish parasites other than Anisakis simplex whose allergenicity has not yet been studied.
Objective
To assess IgE hypersensitivity caused by fish parasite allergens in patients with gastro-allergic symptoms after consumption of fish, shellfish or cephalopods, compared with healthy subjects, pollen allergic individuals and children with digestive symptoms after eating marine food.
Methods
We carried out in vivo tests (skin prick) and in vitro tests (specific IgE determination, Western blot) and component resolved diagnostics (CRD) using microarray analysis in all patients.
Results
CRD better detected sensitisation to allergens from marine parasites than skin prick tests and determination of specific IgE by CAP. Sensitisation to Gymnorhynchus gigas was detected in 26% of patients measured by skin prick tests and 36% measured by IgE.
Conclusions
The prevalence of hypersensitivity to marine parasite allergens other than Anisakis simplex should be studied, and the most appropriate technique for this is CRD.
Keywords:
Component resolved diagnosis
Arrays
Molecular diagnosis
Fish parasite allergens
Abbreviations:
CRD
rAni s3
r Ani s1
rCyp c1
rGad s1
nPen i 1
rDer p 10.
nBla g7
Groups 1, 4, 5 and 6 of pollens
nDer p1 and Der p2
R Alt a 1
nApi m1
Ves v5
rAni s1
nPrup3
rCor a 8
nArt v3
Prof
Prol
CCD
Article
These are the options to access the full texts of the publication Allergologia et Immunopathologia
Subscribe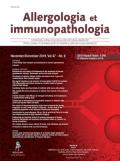 Subscribe to
Allergologia et Immunopathologia
Contact
Phone for subscriptions and reporting of errors
From Monday to Friday from 9 a.m. to 6 p.m. (GMT + 1) except for the months of July and August which will be from 9 a.m. to 3 p.m.
Calls from Spain
932 415 960
Calls from outside Spain
+34 932 415 960
E-mail