Article information
Abstract
Full Text
Bibliography
Download PDF
Statistics
Abstract
Tremendous progress in the ability to identify and test the function of microorganisms in recent years has led to a much better understanding of the role of environmental and host microbiome in the development of immune function, allergic sensitization and asthma. In this review, the most recent findings on the relationships between environmental microbiota, respiratory, intestinal microbiome, the consequences of early-life microbial exposure type and gut–lung microbial axis and the development of asthma and atopy are summarized. The current perspective on gut and airway microbiome manipulation for the primary prevention of allergic diseases and asthma is also discussed.
Keywords:
Microbiome
Asthma
Allergy
Environment
Rural
Rhinitis
Article
These are the options to access the full texts of the publication Allergologia et Immunopathologia
Subscribe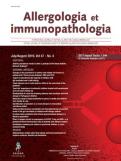 Subscribe to
Allergologia et Immunopathologia
Contact
Phone for subscriptions and reporting of errors
From Monday to Friday from 9 a.m. to 6 p.m. (GMT + 1) except for the months of July and August which will be from 9 a.m. to 3 p.m.
Calls from Spain
932 415 960
Calls from outside Spain
+34 932 415 960
E-mail