Article information
Abstract
Full Text
Bibliography
Download PDF
Statistics
Background: Approximately 150 species of Lepidoptera have been described as causing damage to human skin. One of these species is the pine processionary caterpillar, which is responsible for dermatitis, contact urticaria, ocular lesions and rarely respiratory signs and anaphylactic reactions through IgE-mediated or non-IgE-mediated mechanisms. We report a pediatric case of severe orofacial edema mimicking an allergic reaction after ingestion of a pine processionary caterpillar; urgent airway intubation was required. Case report: A 15-month-old boy was sleeping under a pine tree when his mother noted a pine caterpillar on his tongue. Because of rapidly developing facial swelling and respiratory distress, the infant was first taken to a local hospital where he received intravenous dexamethasone and pheniramine hydrogen maleate. On arrival at our emergency department, diffuse swelling and edema involving the tongue, perioral, nasal and perimandibular regions, and neck was noted, requiring urgent orotracheal intubation. There were no findings of anaphylaxis. The results of skin prick tests and specific IgE to common aero- and food allergens were negative. A skin prick test with extract of pine caterpillar was also negative. Prednisolone and pheniramine hydrogen maleate were administered for 7 days. The child gradually improved and was successfully extubated 4 days later. Conclusion: Although oral contact with a pine processionary caterpillar in the form of ingestion is rare, it may cause significant local reaction and airway compromise mimicking an allergic event. In this situation, early intubation to maintain airway patency is a life-saving measure.
Keywords:
Airway
Edema
Infant
Pine processionary caterpillar
Thaumetopoea pityocampa
Antecedentes: aproximadamente se han descrito 150 especies de lepidopteros causantes de lesiones cutáneas. Uno de estos es la oruga de la procesionaria del pino que es responsable de dermatitis, urticaria de contacto, lesiones oculares y, raramente, síntomas respiratorios y reacciones anafilácticas por mecanismos mediadas o no por IgE. Presentamos un caso pediátrico de edema orofaríngeo grave con el aspecto clínico de una reacción alérgica, que se produjo tras la ingestión de una oruga de procesionaria del pino, siendo necesaria la intubación urgente de vías aéreas. Caso clínico: Cuando un lactante de 15 meses de edad dormía bajo un pino, su madre vio que tenía una oruga en la lengua. Se produjo uns rápida hinchazón facial y distres respiratorio, lo que requirió tratamiento endovenoso urgente en el hospital local, con dexametasona, feniramina y maleato iónico. A llegar al servicio de urgencias, se había desarrollado una hinchazón difusa y edema lingual, perioral, nasal, perimandibular y del cuello, por lo que se le practicó una intubación oro-traqueal. No hubo signos de reacción anafiláctica. El tratamiento con prednisolona, feniramina y maleato prosiguió durante siete días, con mejoría progresiva, pudiendo extubarse cuatro días más tarde. Las pruebas cutáneas y la IgE específica frente a neumoalergenos y alimentos comunes fueron negativas e igual la prueba con extracto de oruga de la procesionaria del pino. Conclusión: aunque el contacto oral con la oruga de la procesionaria del pino por ingestión es un raro incidente, puede causar una importante reacción local y grave afectación respiratoria semejantes a una reacción alérgica La intubación urgente para mantener la permeabilidad de las vías aéreas y las medidas salvadoras oportunas, son condición indispensable.
Palabras clave:
Vías aéreas
Edema
Lactante
Oruga de la procesionaria del pino
Article
These are the options to access the full texts of the publication Allergologia et Immunopathologia
Subscribe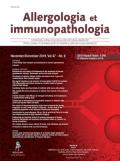 Subscribe to
Allergologia et Immunopathologia
Contact
Phone for subscriptions and reporting of errors
From Monday to Friday from 9 a.m. to 6 p.m. (GMT + 1) except for the months of July and August which will be from 9 a.m. to 3 p.m.
Calls from Spain
932 415 960
Calls from outside Spain
+34 932 415 960
E-mail