Article information
Abstract
Full Text
Bibliography
Download PDF
Statistics
Antecedentes: La alergia ocupacional entre las floristas y en los trabajadores de producción de flores de corte de cultivos de
Alstroemeria
(lirio Peruano o lirio Inca) fue ya objeto de descripción. La Tulipalina A (alfa-metileno-gama-butirolactona) es lo alergeno involucrado en la sensibilización. Caso clínico: se presenta un caso de una paciente de 65 anos que ha iniciado una dermatitis grave en los 1º, 2º y 3º dedos de la mano derecha, bien como una dermatitis de intensidad moderada en la área palmar izquierda y vista anterior de lo antebrazo homolateral. Ocasionalmente, los síntomas se acompañan de prurito de la cara y cuello, en el decurso de actividades de jardinaje en su casa, incluyendo el corte de flores de
Alstroemeria.
Métodos: Fueron realizadas pruebas epicutáneas con la serie estándar europea, la serie de plantas, y porciones de tallo de tres plantas sospechas (
Alstroemeria, Lilium
y
Zantedeschia
), ajo y cebolla. Resultados: Las pruebas revelaron una reacción severa (+++) a
Alstroemeria
y alfa-metileno-gama-butirolactona, una reacción intensa (++) a propolis y mixtura de alquitranes de la madera, una reacción ligera (+) a bálsamo Perú, una reacción irritativa a ajo y resultados negativos a dialil disulfido, bien como a todos los demás estudiados. Conclusiones: Este caso clínico reporta la importancia de la Alstroemeria como inductor de dermatitis de contacto alérgica, non solo en trabajadores de floricultura, pero también en individuos comunes que puedan contactar con esta planta en sus actividades de tiempos libres.
Palabras clave:
alfa-metileno-gama-butirolactona, alstroemeria, dermatitis de contacto a alstroemeria, tulipalina A
Article
These are the options to access the full texts of the publication Allergologia et Immunopathologia
Subscribe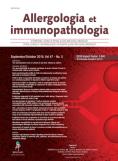 Subscribe to
Allergologia et Immunopathologia
Contact
Phone for subscriptions and reporting of errors
From Monday to Friday from 9 a.m. to 6 p.m. (GMT + 1) except for the months of July and August which will be from 9 a.m. to 3 p.m.
Calls from Spain
932 415 960
Calls from outside Spain
+34 932 415 960
E-mail