Article information
Abstract
Full Text
Bibliography
Download PDF
Statistics
Background: Goat's milk (GM) allergy not associated with allergy to cow's milk (CM) is a rare disorder. Caseins have been implicated has the major allergens eliciting symptoms. Methods: We report the case of a 27 years-old female patient that experienced two episodes of urticaria related to ingestion of goat's cheese (GC). She tolerated CM, dairy products and sheep cheese. Skin prick tests were performed with GM, CM, bovine casein and a -lactalbumin and fresh milk and GC. Serum specific IgE to GM, CM and its fractions, and GM and CM immunobloting assays with inhibition were also evaluated. Results: Skin tests were positive to GM and GC and negative to CM. GM immunoblot showed an IgE-binding 14 kDa band that was totally inhibited after serum pre-incubation with GM. Conclusions: Allergens other than casein can be involved in allergy to GM. Even small quantities of protein can elicit symptoms.
Keywords:
allergy, cheese, cow, goat, milk
Introducción: La alergia a leche de cabra sin asociación a alergia a leche de vaca es una situación muy poco frecuente. Del conjunto de alergenos mayores, las caseínas son las más involucradas en los síntomas. Métodos: Se presenta lo caso de una paciente de 27 anos de edad, que describe desde hace 3 años dos episodios de urticaria tras ingestión de queso de cabra. Tolera leche de vaca y oveja, así como sus derivados. Se realizaron pruebas cutáneas (prick) con leche de cabra (LC), leche de vaca (LV), caseína y a-lactoalbumina bovinas y también con leche fresca y queso de cabra. Adicionalmente se procedió a determinación de los niveles de IgE sérica especifica a LC, LV y fracciones así como ensayos de immunobloting de LC y LV con inhibición. Resultados: Las pruebas cutáneas fueran positivas a leche y queso de cabra y negativas a LV. El immunoblot con LC demostró una banda de 14 kDa de ligación a IgE, que ha sido totalmente inhibida tras la incubación previa con LC. Conclusiones: Otros alergenos además de caseína pueden estar involucrados en la alergia a LC. También pequeñas cantidades de proteína pueden desencadenar síntomas.
Article
These are the options to access the full texts of the publication Allergologia et Immunopathologia
Subscribe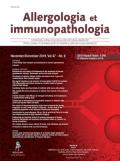 Subscribe to
Allergologia et Immunopathologia
Contact
Phone for subscriptions and reporting of errors
From Monday to Friday from 9 a.m. to 6 p.m. (GMT + 1) except for the months of July and August which will be from 9 a.m. to 3 p.m.
Calls from Spain
932 415 960
Calls from outside Spain
+34 932 415 960
E-mail