Article information
Abstract
Full Text
Bibliography
Download PDF
Statistics
Background: The incidence of rashes following the intake of aminopenicillins during an acute episode of infectious mononucleosis is high, but severe cutaneous reactions as erythema multiforme or Stevens-Johnson syndrome are rare manifestations in childhood. Material and methods: We report the case of a 7 year old girl that developed a generalized purpuric rash with target shaped areas, 9 days after starting treatment with amoxicillin-clavulanic acid. Laboratory investigation revealed a significant increase of Epstein Barr virus (EBV) specific IgM antibody. After skin biopse she was diagnosed as erythema multiforme syndrome. Prick, intradermal and patch tests were performed with penicilloylpolylysine, minor determinant mixture, benzylpenicillin, ampicillin, amoxicillin, cefazoline and cefotaxime, the 24 hours reading was positive for aminopenicillins. Patch tests were also positive only for aminopenicillins, other betalactams were negative. Conclusions: The interaction between an infectious agent (EBV) and amoxicillin could precipitate the severe skin reaction. Patch test and delayed intradermal reading with amoxicilllin were an useful tool for the diagnosis of the etiological agent in this reaction. The negative response to other beta-lactams, suggests that the aminobenzyl group of the side chain of amoxicillin plays a predominant role in this reaction.
Keywords:
Erythema multiforme
Epstein Barr virus
Amoxicillin
Intradermal test
Patch test
Cell mediated hypersensitivity
Antecedentes. La incidencia de reacciones exantemáticas tras tratamiento con aminopenicilinas durante un episodio de mononucleosis infecciosa es elevada, si bien las reacciones cutáneas graves tales como Eritema multiforme o Sd. de Stevens-Johnson son manifestaciones especialmente infrecuentes en la infancia. Material y métodos: niña de 7 años que desarrolló un rash purpúrico con lesiones en diana, 9 días después de estar recibiento tratamiento con amoxicilina-clavulánico por cuadro febril y amigdalitis. La analítica mostraba un aumento significativo de los anticuerpos IgM específicos a virus Epstein-Barr. La biopsia cutánea fue compatible con el diagnóstico de eritema multiforme. Se realizaron tests cutáneos mediante técnica de prick e intradermorreacción con PPL (peniciloilpolilisina), MDM (mezcla de determinantes antigénicos menores), penicilina G , ampicilina, amoxicilina, cefazolina y cefotaxima que fueron únicamente positivos para aminopenicilinas en lectura retardada. Los test epicutáneos con dichos preparados fueron igualmente positivos para aminopenicilinas también. Conclusiones. En este caso la interacción entre amoxicilina y el virus Epstein Barr pudo precipitar la reacción cutánea grave. Los tests cutáneos en lectura retardada así como los tests epicutáneos fueron útiles en el diagnóstico etiológico de esta reacción. La respuesta cutánea negativa a otros betalactámicos sugiere que el grupo aminobenzil de la cadena lateral de la amoxicilina juega un papel predominante en esta reacción.
Palabras clave:
Eritema multiforme, virus Eptein-Barr, amoxicilina, test intradérmicos, test epicutáneos, hipersensibilidad celular
Article
These are the options to access the full texts of the publication Allergologia et Immunopathologia
Subscribe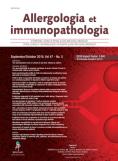 Subscribe to
Allergologia et Immunopathologia
Contact
Phone for subscriptions and reporting of errors
From Monday to Friday from 9 a.m. to 6 p.m. (GMT + 1) except for the months of July and August which will be from 9 a.m. to 3 p.m.
Calls from Spain
932 415 960
Calls from outside Spain
+34 932 415 960
E-mail