Article information
Abstract
Full Text
Bibliography
Download PDF
Statistics
Abstract
Asthma is a heterogeneous disease characterised by chronic airway inflammation. One of the most devastating consequences of this inflammatory process is the generation of reactive oxygen and nitrogen species responsible for oxidative stress. The aim of this study is to analyse the efficiency of treatment with human bone marrow-derived mesenchymal stromal cells (hMSC) in maintaining the oxidative balance in a murine model of allergic asthma by quantifying nitrotyrosine in lung tissues. After confirmation of asthma in the experimental model, samples of lung parenchyma were submitted to immunohistochemical assessment. Intravenous administration of hMSC reduced the levels of nitrotyrosine in the ASTHMA-hMSC group compared to those in the ASTHMA-SAL group. In conclusion, therapeutic administration of hMSC had a beneficial effect on oxidative stress, reducing the levels of nitrotyrosine in lung tissues in a model of allergic asthma.
Keywords:
Asthma
Oxidative stress
Nitrotyrosine
Peroxynitrite
Mesenchymal cells
Abbreviations:
MSC
hMSC
ROS
RNS
OVA
HE
NO
GPx
SOD
CAT
FEV1
FVC
Article
These are the options to access the full texts of the publication Allergologia et Immunopathologia
Subscribe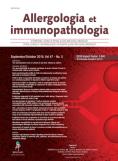 Subscribe to
Allergologia et Immunopathologia
Contact
Phone for subscriptions and reporting of errors
From Monday to Friday from 9 a.m. to 6 p.m. (GMT + 1) except for the months of July and August which will be from 9 a.m. to 3 p.m.
Calls from Spain
932 415 960
Calls from outside Spain
+34 932 415 960
E-mail