Article information
Abstract
Full Text
Bibliography
Download PDF
Statistics
Abstract
Introduction and objectives
Allergic rhinitis (AR) is a classic Th2-mediated disease, with important contributions to the pathology of interleukins 4, 5, and 13. The co-stimulatory molecule of OX40 and its ligand interaction participate in the immune response by regulation of Th1/Th2 cells balance. Considering the paucity of information on the relation between OX40 ligand (OX40L) and AR, this study aimed to examine its expression on B lymphocytes.
Patients and methods
This case–control study consisted of 20 AR patients and 20 healthy subjects. The serum level of total immunoglobulin E (IgE) was measured using the electro-chemiluminescence (ECL) technology. The percentage of B-lymphocytes expressing OX40L was assessed by flow cytometry. The amounts of IL-4 in CD4+ T cells culture supernatant was also measured by the enzyme-linked immunosorbent assay (ELISA).
Results
OX40L expression on B lymphocytes of patients was significantly higher than the control group (44.32±19.21% vs. 2.79±2.48% respectively, p<0.001). In AR patients, OX40L expression correlated positively with the levels of serum total IgE and IL-4 produced by CD4+ T lymphocytes (p<0.01 – p<0.05) respectively.
Conclusions
Collectively, the findings of this work suggest that there is a relationship between the OX40L expression level on B lymphocytes and allergic markers such as IgE and IL-4 in patients with allergic rhinitis.
Keywords:
OX40 ligand
Immunoglobulin E
Interleukin-4
Allergic rhinitis
Article
These are the options to access the full texts of the publication Allergologia et Immunopathologia
Subscribe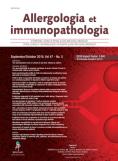 Subscribe to
Allergologia et Immunopathologia
Contact
Phone for subscriptions and reporting of errors
From Monday to Friday from 9 a.m. to 6 p.m. (GMT + 1) except for the months of July and August which will be from 9 a.m. to 3 p.m.
Calls from Spain
932 415 960
Calls from outside Spain
+34 932 415 960
E-mail