Article information
Abstract
Full Text
Bibliography
Download PDF
Statistics
Antecedentes: la finalidad de este estudio es demostrar la importancia de la relación entre la valoración clínica, la pulso-oximetría y los tests espirométricos durante la crisis de asma. Métodos: en un estudio observacional, aleatorio, a doble ciego, se evaluaron 110 niños (entre2 y 15 años) atendidos en la unidad de urgencias por crisis de asma. En todos los pacientes se obtuvieron la historia clínica, examen físico, puntuación de los datos clínicos (score) y saturación de oxígeno; sin embargo, la función pulmonar sólo se efectuó en 54 niños con más de 5 años de edad. La puntuación clínica se basó en la frecuencia respiratoria, sibilancias, disnea y retracciones. Resultados: tanto la saturación de oxígeno como la espirometría estuvieron significativamente correlacionadas con la puntuación clínica. Conclusión: la puntuación clínica puede ser usada para valorar la gravedad de la crisis de asma, particularmente en países en desarrollo con problemas de disponibilidad de laboratorio o de los tests de función pulmonar.
Article
These are the options to access the full texts of the publication Allergologia et Immunopathologia
Subscribe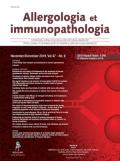 Subscribe to
Allergologia et Immunopathologia
Contact
Phone for subscriptions and reporting of errors
From Monday to Friday from 9 a.m. to 6 p.m. (GMT + 1) except for the months of July and August which will be from 9 a.m. to 3 p.m.
Calls from Spain
932 415 960
Calls from outside Spain
+34 932 415 960
E-mail