Article information
Abstract
Full Text
Bibliography
Download PDF
Statistics
Abstract
Hypersensitivity reactions to aspirin and other NSAIDs occur in individuals genetically predisposed and exhibit different clinical manifestations, especially respiratory, cutaneous, and generalised. Five different phenotypes define distinct clinical pictures: aspirin-exacerbated respiratory disease, aspirin/NSAID cutaneous disease, NSAID-induced urticaria, angio-oedema and anaphylaxis, single NSAID reactions, and delayed reactions. They are observed more frequently in middle-aged women, and in atopic individuals. While ASA/NSAID hypersensitivity shares comorbidities with asthma, chronic rhinosinusitis, nasal polyposis, chronic urticaria and angio-oedema, ASA and other NSAIDs can also be cofactors for other clinically relevant conditions, especially food-dependent exercise-induced anaphylaxis, angio-oedema induced by angiotensin-converting enzyme inhibitors, and oral mite anaphylaxis. Awareness on these relationships is required for the correct diagnosis, classification, and treatment of affected patients.
Keywords:
Aspirin
Angio-oedema
Asthma
Non-steroidal anti-inflammatory drugs
Rhinosinusitis
Urticaria
Anaphylaxis
Abbreviations:
ADORA 3
ACEis
AE
AECD
AERD
ASA
CU
FDEIA
LTP
NSAIDs
U/AE
Article
These are the options to access the full texts of the publication Allergologia et Immunopathologia
Subscribe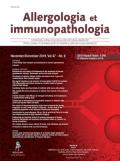 Subscribe to
Allergologia et Immunopathologia
Contact
Phone for subscriptions and reporting of errors
From Monday to Friday from 9 a.m. to 6 p.m. (GMT + 1) except for the months of July and August which will be from 9 a.m. to 3 p.m.
Calls from Spain
932 415 960
Calls from outside Spain
+34 932 415 960
E-mail