Article information
Abstract
Full Text
Bibliography
Download PDF
Statistics
A case report of an unusual formaldehyde exposure that had happened accidentally is described. A 54-year-old male ingested 10 % formaldehyde and inhaled while vomiting and he developed cough, dyspnea and wheezing with prevalent ronci and bilateral infiltrates on chest x-ray (cxr). His pulmonary symptoms and FEV
1
responded well to systemic corticosteroids and nebulised salbutamol given for the possible diagnosis of hypersensitivity and/or chemical pneumonitis, and infiltrates were cleared. Two weeks after the incident, he had massive haemoptysis, fever, leucocytes, prevalent crackles, bronchospasm, and new infiltrates on CXR. After an antibiotic and steroid therapy, his symptoms and crackles relieved, radiographic infiltrates were regressed. Delayed type hypersensitivity to formaldehyde patch test was appropriate with late-onset symptoms. This is a first case of pneumonitis as well as asthma different from the occupational exposure to formaldehyde. This data suggests direct and indirect effects of formaldehyde in healthy human airways.
Keywords:
Allergens
Asthma
Environment
Formaldehyde
Pneumonitis
Se presenta un caso inusual de exposición a formaldehído que ocurrió accidentalmente. Varón de 54 años que ingirió accidentalmente unos 200 cc de formaldehído al 10%, que también inhaló, siguiéndose de vómitos, tos, disnea, con prevalencia de roncus y la radiografía mostró infiltrados en ambos pulmones. Los síntomas pulmonares y el FEV1 respondieron bien con corticosteroides sistémicos y salbutamol nebulizado, por el posible diagnóstico de hipersensibilidad y neumonitis química. También los infiltrados pulmonares se aclararon. Dos semanas después del incidente, el paciente tuvo una hemoptisis masiva, fiebre, crepitantes, broncoespasmo y nuevos infiltrados (RX), leucocitosis. Después de ser tratado con antibióticos y corticoides, los síntomas y los infiltrados regresaron. Se comprobó la existencia de hipersensibilidad retardada mediante prueba del parche con formaldehído, lo que correlacionó con la aparición tardía de los síntomas. Este es el primer caso de neumonitis así como de asma, diferente de la exposición ocupacional a formaldehído. Estos datos sugieren los efectos directos e indirectos del formaldehído en las vías aéreas de individuos sanos.
Article
These are the options to access the full texts of the publication Allergologia et Immunopathologia
Subscribe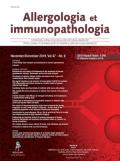 Subscribe to
Allergologia et Immunopathologia
Contact
Phone for subscriptions and reporting of errors
From Monday to Friday from 9 a.m. to 6 p.m. (GMT + 1) except for the months of July and August which will be from 9 a.m. to 3 p.m.
Calls from Spain
932 415 960
Calls from outside Spain
+34 932 415 960
E-mail