Article information
Abstract
Full Text
Bibliography
Download PDF
Statistics
Introducción: La cloxacilina es un penicilina semisintética ampliamente utilizada en las infecciones por Staphylococcus aureus no resistente a meticilina. Se han descrito diferentes reacciones de hipersensibilidad a cloxacilina, aunque las IgE mediadas son raras y hay poca información sobre el control de estos pacientes en cuanto a su posible tolerancia a otras penicilinas o cefalosporinas. Presentamos dos casos con alergia a cloxacilina, con lo que se demuestra un mecanismo IgE mediado con tolerancia a amoxicilina y cefuroxima. Casos clínicos: a) mujer de 47 años que comenzó un tratamiento con cloxacilina para tratar una celulitis aguda. Tras la toma de 500 mg, presentó una erupción maculopapular y angioedema facial, y b) mujer de 55 años que, 1 h después de la toma de 500 mg de cloxacilina por un absceso cutáneo, presentó un cuadro de urticaria y angioedema labial. Las pruebas cutáneas en Prick fueron positivas a cloxacilina en la primera paciente y negativas en la segunda, aunque en ésta la prueba intradérmica fue positiva (2mg/ml). Se realizaron provocaciones orales simple-ciego con amoxicilina (1 g) y cefuroxima (500 mg), bien toleradas en ambas pacientes. Conclusiones: Presentamos los casos de dos pacientes alérgicas a cloxacilina que toleran otros antibióticos betalactámicos, lo que confirma que un mecanismo de reactividad cruzada entre ellos parece ser infrecuente. Por ello, debe plantearse siempre un estudio alergológico que incluya la provocación oral en los pacientes alérgicos a cloxacilina.
Palabras clave:
Amoxicilina
Cloxacilina
Hipersensibilidad
Tolerancia
Alergia
Article
These are the options to access the full texts of the publication Allergologia et Immunopathologia
Subscribe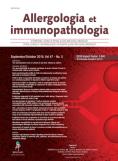 Subscribe to
Allergologia et Immunopathologia
Contact
Phone for subscriptions and reporting of errors
From Monday to Friday from 9 a.m. to 6 p.m. (GMT + 1) except for the months of July and August which will be from 9 a.m. to 3 p.m.
Calls from Spain
932 415 960
Calls from outside Spain
+34 932 415 960
E-mail