Article information
Abstract
Full Text
Bibliography
Download PDF
Statistics
Tables (1)
Figure 1. --IgE immunoblotting of red grape extract with sera from a patient who had presented allergic reactions after eating grapes and alcohol (lane P1) and from two patients who had presented allergic reactions after eating grapes (lane P2 and P3). The last lane (lane C) corresponds to control serum (serum pool from non atopic subjects) Lane M: Molecular mass marker.

Background: Allergy to grape is uncommon, however allergic reactions to all different types of grape and wine have been described and exercise-induced allergy to grape has also been reported. Case report: An 18-year-old woman who had presented several anaphylactic reactions on New Year's Eve. She remains asymptomatic if she eats the fruit alone but not if she associates the fruit with alcoholic drinks. Skin prick test with fresh grape and oral challenge with grapes and champagne together were positive. We performed an immunologic study using the patient's sera and the sera of two other patients with grape allergy not alcohol-induced in order to determine if the allergens implicated are different when alcohol is a cofactor: any differences were found. We use SDS-PAGE technique and Ig E immunobloting to identify the allergens. Conclusion: We report a case of alcohol- induced anaphylaxis to grape where no different allergens to grape were identified when alcohol is a cofactor.
Keywords:
Alcohol-induced anaphylaxis
Food allergy
Grape
Introducción: A pesar de que la alergia a la uva es infrecuente, se han descrito reacciones alérgicas a los diferentes tipos de uva y vino, así como la alergia a la uva inducida por el ejercicio físico. Caso clínico: Mujer de 18 años de edad que presentó característicamente reacción anafiláctica en nochevieja de tres años consecutivos. Toleraba la ingesta de uva sola, pero no cuando la ingería junto con alcohol. El prick test con uva fresca y la prueba de provocación oral con uvas y cava fueron positivas. Realizamos un estudio inmunológico utilizando suero del paciente y suero de otros dos pacientes con alergia a la uva no inducida por alcohol, para averiguar si los alergenos implicados eran diferentes cuando el alcohol actúa como cofactor: no se hallaron diferencias. Usamos para identificar los alergenos la técnica del SDS-PAGE e inmunobloting. Conclusión: Describimos un caso de anafilaxia a la uva inducida por alcohol. No encontramos diferencias en los alergenos de la uva cuando el alcohol actúa como cofactor.
Article
These are the options to access the full texts of the publication Allergologia et Immunopathologia
Subscribe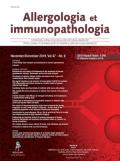 Subscribe to
Allergologia et Immunopathologia
Contact
Phone for subscriptions and reporting of errors
From Monday to Friday from 9 a.m. to 6 p.m. (GMT + 1) except for the months of July and August which will be from 9 a.m. to 3 p.m.
Calls from Spain
932 415 960
Calls from outside Spain
+34 932 415 960
E-mail