Article information
Abstract
Full Text
Bibliography
Download PDF
Statistics
Tables (2)
Table 1. Major genes whose methylation status is linked to various urological neoplasms. It highlights the role of these genes and their clinical useful implications.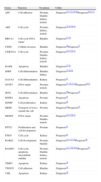 Abstract
Objectives
We have synthesized the principal advances in the field of the study of epigenetics and specifically DNA methylation regarding the diagnosis of urological neoplasms.
Acquisition of evidence
Review of the literature (PubMed, MEDLINE y COCHRANE) on the study of DNA methylation in urological neoplasms (prostate cancer, bladder cancer, renal cancer and testicular cancer), considering all the studies published up to January 2013.
Synthesis of evidence
It was possible to determine the state of methylation of many genes in our tumor samples. When these were compared with healthy tissue samples, it was possible to define the specific aberrant methylation patterns for each type of tumor. The study and definition of specific abnormal methylation patterns of each type of tumor are a tool having potential utility for diagnosis, evaluation, prediction of prognosis and treatment of the different forms of genitourinary cancer. The analysis of gene methylation in urine after micturition or post-prostatic massage urine, semen, in the wash plasma or fluid from prostatic biopsies may allow early detection of bladder, prostate, renal and testicular cancer. In each one of the neoplasms, an epigenetic signature that may be detected in the DNA has been identified, obtained from very scarce or not at all invasive specimens, with potential in the diagnosis and evaluation of prognosis. Validation of these studies will confirm the accuracy, effectiveness and reproducibility of the results available up to now. Criteria have still not been developed that determine if a gene panel provides sufficient information in the health care practice to guide an unequivocal diagnosis or therapeutic conduct. More studies are needed to compare sensitivity, specificity, positive and negative predictive value of the test in each case. Multicenter studies analyzing the real reproducibility of these results in a clinical setting also do not exist.
Conclusions
The study of aberrant DNA methylation in biological specimens of patients has an enormous potential for the early diagnosis and screening of genitourinary neoplasms. A larger number of studies is needed to be able to define the series of genes that would mean unequivocal signatures of malignancy. This methodology also has potential when defining prognostic groups and potential of response to different therapies.
Keywords:
Epigenetics
DNA methylation
Methylation-specific polymerase chain reaction
Bladder cancer
Prostate cancer
Renal cancer
Testicular cancer
Resumen
Objetivos
Realizar una síntesis de los principales avances en el campo del estudio de la epigenética y concretamente la metilación de ADN respecto al diagnóstico de las neoplasias urológicas.
Adquisición de evidencia
Revisión de la literatura (PubMed, Medline y Cochrane) sobre el estudio de la metilación del ADN en neoplasias urológicas (cáncer de próstata, cáncer de vejiga, cáncer renal y cáncer testicular) teniendo en cuenta todos los estudios publicados hasta enero de 2013.
Síntesis de evidencia
Resulta posible determinar el estado de metilación de un gran número de genes en muestras de tumores, que al compararlo con muestras de tejido sano permite la definición de patrones de metilación aberrantes específicos para cada tipo de tumor. El estudio y la definición de patrones de metilación anómala específicos de cada tipo de tumor es una herramienta de potencial utilidad para el diagnóstico, evaluación, predicción de pronóstico y tratamiento de las diferentes formas de cáncer genitourinario. El análisis de la metilación de genes en la orina, tras la micción o masaje prostático, el semen, el plasma o el líquido de lavado de biopsias prostáticas puede permitir la detección precoz del cáncer vesical, prostático, renal y testicular. En cada una de las neoplasias se ha identificado una firma epigenética que puede detectarse en ADN obtenido de muestras muy escasamente o nada invasivas, con potencial en el diagnóstico y en la evaluación de pronóstico. La validación de estos estudios confirmará la precisión, efectividad y reproducibilidad de los resultados de los que se dispone hasta el momento. No están aún desarrollados criterios que determinen que un panel de genes sea lo suficientemente informativo en la práctica asistencial como para guiar un diagnóstico inequívoco o una conducta terapéutica. Se requiere un mayor número de estudios para contrastar en cada caso la sensibilidad, especificidad, el valor predictivo positivo y negativo de la prueba. Tampoco existen estudios multicéntricos que analicen la reproducibilidad real de estos resultados en un entorno clínico.
Conclusiones
El estudio de la metilación aberrante del ADN en muestras biológicas de pacientes tiene enorme potencial para el diagnóstico precoz y cribado de las neoplasias genitourinarias. Se necesita un mayor número de estudios que permitan definir baterías de genes que supongan firmas inequívocas de malignidad. Esta metodología tiene también potencial a la hora de definir grupos pronóstico y potencial de respuesta a diferentes terapias.
Palabras clave:
Epigenética
Metilación de ADN
Reacción en cadena de la polimerasa específica para metilación
Cáncer de vejiga
Cáncer de próstata
Cáncer renal
Cáncer testicular
Article
These are the options to access the full texts of the publication Actas Urológicas Españolas (English Edition)